Why Ally Is Exposed To The Current Crisis In More Than One Way (NYSE:ALLY)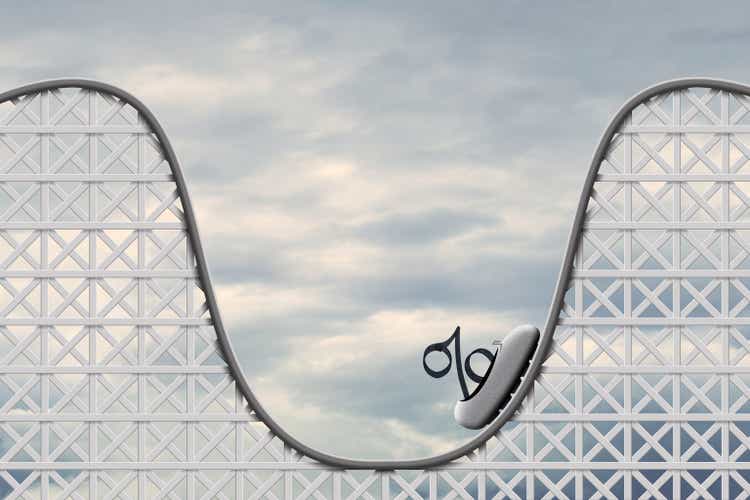 A Painful Lesson
One thing market participants have learned (or re-learned) over the last few weeks is that the pernicious effects of interest rate hikes take time to ripple through the economy. The collapse of Silicon Valley Bank of SVB Financial Group (SIVB) and Signature Bank (SBNY), along with the potential implosion of others like Credit Suisse Group AG (CS) and First Republic Bank (FRC), have all centered around financial institutions that were caught flat-footed by the interest rate hikes of 2022, and which (to various degrees) were more or less overly exposed to duration and interest rate risk.
Ally Financial Inc. (NYSE:ALLY), which operates a digital bank and a large auto lending operation primarily to General Motors Company (GM) and Stellantis N.V. (STLA) auto dealers is, in our opinion, set for a real double-whammy of pain. It has the same risks embedded in its balance sheet that other banks have, while also being exposed to further knock-on effects of interest rate hikes, specifically rising delinquency rates on auto loans and waning consumer appetites for high-interest rate automotive purchases.
Let's dive in.
Balancing Act
Ally's banking operation bills itself as a digital bank that is able to pass on savings to banking customers because it doesn't have to pay for a lot of the overhead you might find at a "normal" bank, like real estate costs.
On its website, Ally compares its savings accounts with other institutions. With a current APY of 3.6%, it's clear to see why a savings account with Ally would make sense.
However, if we have all been reminded of one thing over the last several weeks, it's that banking is a spread business – in other words, banks had better be able to earn net positive interest on their loans in order to make payouts to depositors.
We find it troubling, then, to review the company's available-for-sale investment securities, which have an average interest rate of only 2.5%.
For those unfamiliar, available-for-sale securities are required to be held at fair value and marked to current market prices, while held-to-maturity securities are not subject to the same accounting treatment. It is also tough for investors to see the duration of these securities, with the large majority of them maturing in more than 10 years.
In total, Ally reported only $841 million in income on these assets that are valued at $29 billion. The company also reported a $4 billion unrealized loss on these securities due to rising interest rates.
You don't need a mathematics degree to see how paying depositors 3.6% while your investments only yield 2.5% on average is a losing proposition (interest expense on deposits was $1.9 billion in 2022).
This is where the other part of Ally's income equation – its auto-lending business – comes into play.
Delinquency Rising
The bulk of Ally's loan book is concentrated in automotive lending. At the end of 2022, Ally had roughly $19 billion on the books in mortgage lending, $1.9 billion in personal lending, $1.5 billion in credit card lending, and a whopping $83 billion in auto lending.
Of the $83 billion in outstanding auto loans, all of it is fixed rate (p. 108 of Ally's most recent 10-K). Given that prepayment risk is not a huge concern in today's environment, we can move on to discuss the quality of today's car buyer.
One of the ways that we assess the near-term risk of a loan portfolio is by reviewing how quickly loans enter a past-due status. Since the composition of loans by year changes as time goes on, simply reviewing the stated delinquencies by loan year group won't expose the true short-term lending risk.
For example, consider this table from page 148 of Ally's most recent 10-K:
You can examine loans by origination year, but comparing delinquency rates by origination year as presented is not always the best way to assess the risk, because some of the credit risk may already be stripped out. If you have a loan from 2020, for example, that went bad and then was charged off, that loan will no longer appear on your books. For example, Ally charged off $1.4 billion in bad auto loans in 2022 compared with $923 million in 2021.
So, while you can see that Ally currently has $23 billion in auto loans on its books that were originated in 2021, that number does not reflect that total origination amount from 2021. That number, from Ally's 2021 10-K, was $35.8 billion.
At the end of 2021, 1.2% of the loans Ally had originated in that year were 30-59 days delinquent, with 0.3% being 60-90 days late. In 2022, those numbers jumped.
The $707 million and $207 million in the above chart for 2022 delinquencies represent 1.9% and 0.6% of the total auto lending originations, a respective jump of 70 and 30 basis points year-over-year.
Delinquency rates rising among loans originated within the last twelve months is a very troubling sign. It indicates that the true credit quality of the average consumer is not as good as Ally may believe it is.
Further, the bulk of these loans is for used vehicles. In 2020, 2021, and 2022, used vehicle originations counted for 55%, 60%, and 65% of Ally's total financing originations, while new vehicle originations shrank as a total proportion, representing 32%, 28%, and 27% respectively.
Given the fast-falling values of used vehicles after the asset type saw a huge boom in 2022, this paints an even graver picture. Not only does Ally have to contend with a deteriorating macro picture and rising delinquencies, but a growing proportion of these loans are likely underwater as well.
Putting It All Together
Ally Financial Inc. has, in our opinion, several factors working against it at the moment.
It has steadily growing deposits, which come along with steadily growing interest rate payments.
Its substantial ($29 billion) investments are paying it less than the current rate it is offering to depositors.
Its automotive lending business is slowing, with credit risk creeping into the portfolio as more loans presumably go underwater.
The question investors must ask themselves, then, is whether or not this risk has been priced in already.
Given the fact that Ally's stock has fallen more than 40% in the past year, some investors may see the current situation as a buying opportunity. We, on the other hand, feel that the risks within Ally's portfolio have yet to fully manifest.
Further, despite the fact that Ally has managed to avoid depositor flight, the growth of its deposit base hasn't exactly been stellar.
Retail balances – despite alluring APYs on savings accounts – have stayed relatively flat over five quarters.
Ally's all-important capital ratios have also been affected by all this. The company's common equity Tier 1 capital ratio fell year-over-year from 10.3% in 2021 to 9.2% in 2022, with equity shrinking year-over-year while risk-weighted assets grew by more than $10 billion. (For more data, see page 101 of Ally's 2022 10-K.)
For all of these reasons, we believe that the worst is yet to come for Ally Financial Inc. We will continue to closely monitor the situation and believe investors should conduct heavy due diligence if considering an investment.