Q4 2022 U.S. Retail Scorecard – Update Mar. 16, 2023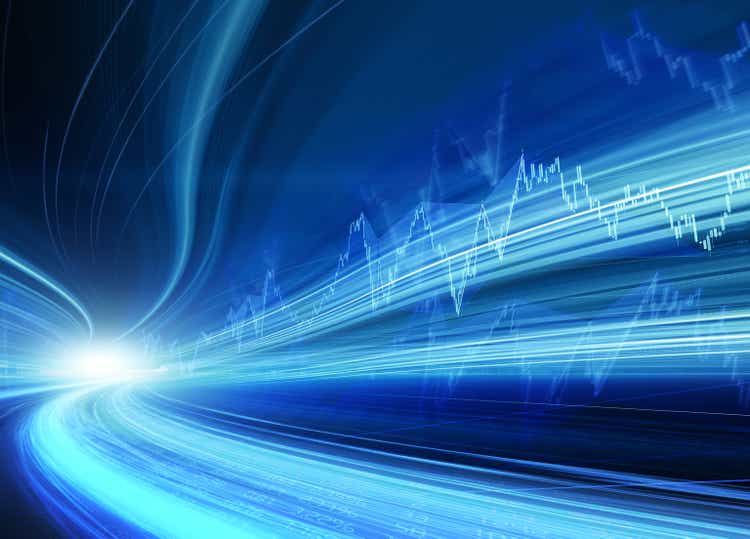 By Jharonne Martis
To date, 192 of the 201 companies in our Retail/Restaurant Index have reported their EPS results for Q4 2022, representing 96% of the index. Of those companies that have reported their quarterly results, 66% announced that profits beat analysts' expectations, while 4% delivered on-target results and 30% reported earnings that fell below estimates. The Q4 2022 blended earnings growth estimate now stands at -21.5%.
The blended revenue growth estimate for the 192 companies that have reported is 5.8% for Q4 2022. Of those companies that have reported their quarterly results so far, 65% announced revenue that exceeded analysts' expectations and the remaining 35% reported that their revenue fell below analysts' forecasts.
Exhibit 1: Refinitiv Earnings Dashboard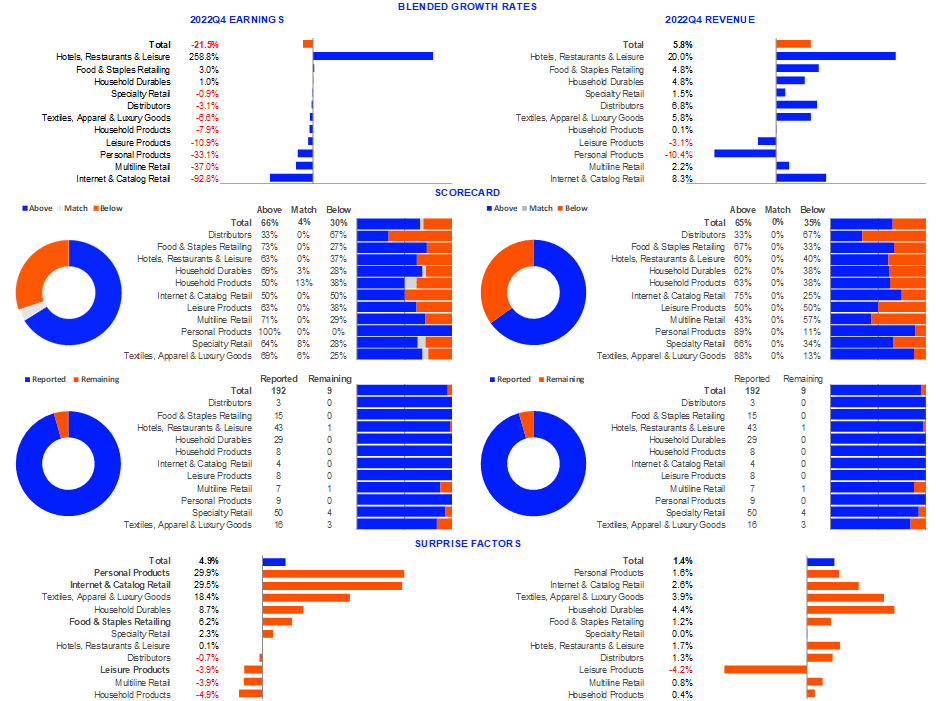 This Week in Retail
U.S. February retail sales came in as weak as expected, down 0.4% in February. Still, sales at restaurants/bars, and department stores saw the strongest year-over-year contributions at 15.3%, and 10.5%, respectively. This is in line with the Refinitiv earnings data suggesting that when consumers open up their wallets, they are gravitating toward restaurants and bars.
Meanwhile, Dollar General (DG) slightly missed its Q4 2022 earnings and revenue estimates. Still, revenue grew a robust 17.9% from a year ago. The discounter attributes the strength to "continued growth with new and existing customers." (Source: DG earnings release, 3/16/2023) This is similar to other discounters that have gained new customers who are trading down.
Williams-Sonoma (WSM) posted mixed results as it beat its Q4 earnings expectation but missed its revenue estimate. Still, the retailer said that despite the declining macro environment, it "delivered another record year of revenue, with a comp of 6.5% on the top line, and record earnings of $16.54 per share." (Source: WSM earnings release 3/16/2023)
For Q4 2022, eight out of the 11 consumer-related industries have turned negative. Of the 201 retailers tracked by Refinitiv, the Hotels, Restaurant & Leisure sector is on track to record the highest estimated earnings growth rate in the fourth quarter, recording a 258.8% surge over last year's level. This is in line with the latest February retail sales data showing that eating out and going to bars is much stronger than a year ago.
This forecast for the holiday season Q4 2022 shows that consumers gravitated towards experiences as opposed to mall visits.
Exhibit 2: Q4 2022 Earnings Growth Rates: Refinitiv Retail and Restaurant Index
Discount levels – U.S. online retailers
The discount penetration (how much of the assortment is on sale) rose to its highest level this year. Refinitiv discovered this in a collaboration with Centric Pricing, formerly StyleSage, which analyzes retailers, brands, online trends, and products across the globe. For March, the discount penetration is 33%, above the 2023 average of 29%, as retailers face a more price-cautious consumer.
Meanwhile, the average percent discount in January was the strongest in over a year at 40.7%. Since then, the average percent discount has declined to 36.5% in March. This means that retailers are ramping up the amount of merchandise on sale. However, the average discount is slightly lower than last year, suggesting that retailers are luring in shoppers with more merchandise on sale, but are being more cautious with margins.
Exhibit 3: Discount Penetration and Average Discount: U.S. Online Retailers
March's Refinitiv/Ipsos Primary Consumer Sentiment Index finds that American consumer confidence flattened after previously increasing for two consecutive months. Despite this, confidence remains lower than it was in March of last year. The Jobs sub-index remains volatile, as it has for much of the past year. After an increase in reported job security last month, Americans now feel less confident. This instability in job perceptions comes against the backdrop of high-profile layoffs in the tech sector juxtaposed with better-than-expected recent job numbers as reported by BLS and ADP.
Retailers are reporting earnings and are warning us not to expect too much from them for the current quarter, given the U.S. economy's inflation challenge and the fact that consumers remain cautious with their spending and are trading down. As a result, 10 out of the 11 consumer-related industries in the Refinitiv Retail/Restaurant Index have turned negative for Q1 2023.
Exhibit 4: Refinitiv/Ipsos Consumer Confidence Index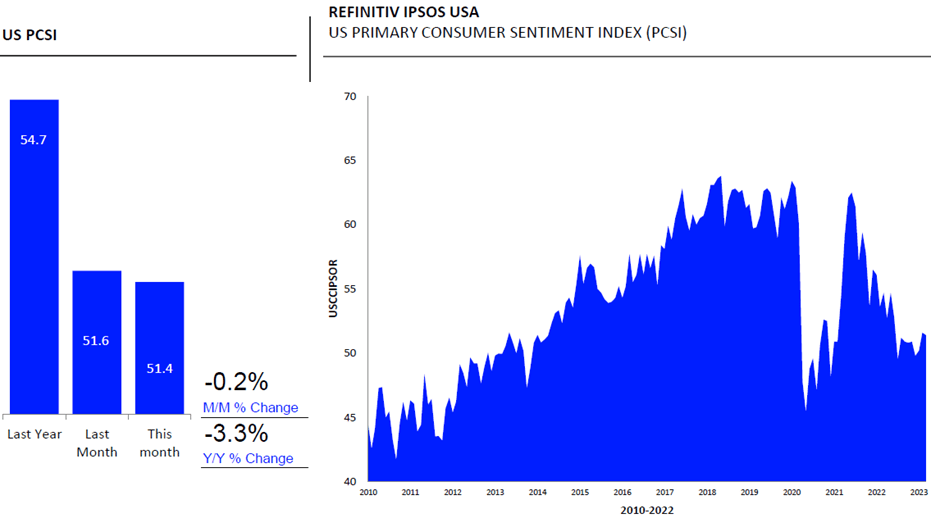 Guidance
So far, 192 retailers have reported Q4 earnings; of this group, 148 mentioned inflation. Looking ahead to Q1 2023, 17 retailers issued negative preannouncements, while only five issued positive EPS guidance so far. Of those retailers offering revenue guidance, 32 warned of disappointing results, while only 14 said revenue might be better than previously expected.
Exhibit 5: Earnings and Revenue Guidance: Q1 2023
Editor's Note: The summary bullets for this article were chosen by Seeking Alpha editors.