Porsche AG: Supportive Q1 Numbers (OTCMKTS:DRPRF)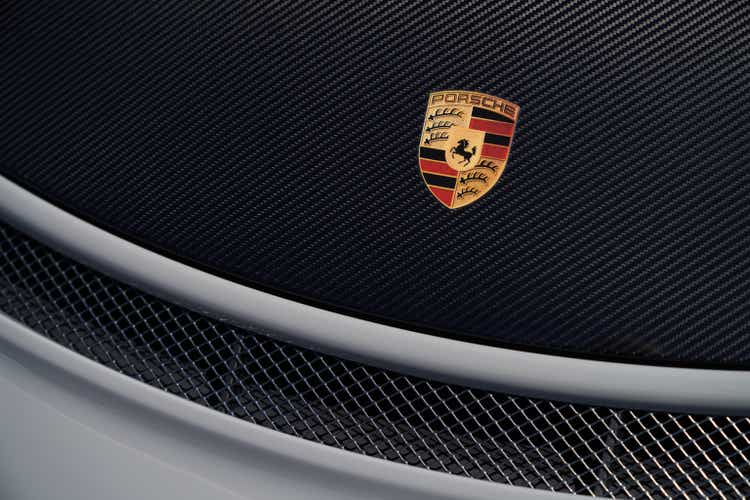 After our quarterly analysis of Volkswagen AG, it is now time to review Dr. Ing. h.c. F. Porsche AG (OTCPK:DRPRF, OTCPK:DRPRY) or P911 latest figures. Here at the Lab, we recently initiated to cover the luxury automotive company with a publication titled "Racing Towards 20% ROS". Our analysis was also supported by our direct investments in Porsche Automobil Holding SE and Volkswagen AG (both investors in P911).
All in all, we might conclude that luxury auto always sells better than affordable cars. In detail, the German group closed Q1 with an operating profit of €1.84 billion, up 25.4% compared to the same period last year, while revenues increased by 25%, just over €10 billion (versus the €8.04 billion recorded in 2022). Return on sales was identical at 18.2%. Porsche also confirmed its 2023 guidance after reporting a higher-than-expected Q1 profit. This was supported by higher volumes, increased personalization, strong pricing, and a better product mix. The company is now expecting an operating return on sales in the 17%-19% range with top-line sales at around €40-42 billion. To meet these targets, the company needs to raise prices between 4% and 8% in Europe and the United States. Higher costs weighed on returns in Q1, and the Stuttgart-based company still has problems with the semis supply chain, in particular on the electric Taycan's high-voltage heating system.
Source: P911 Q1 results presentation
Current Upside
Looking at the P911 shipment volumes, Q1 deliveries increased by 18% compared to the previous year, reaching 80,767 units. In particular, the German luxury automaker delivered 21,365 cars in China, which is now its largest single market, up 21% from a year earlier. The result there, which is the largest among the various regions, was driven by the increase in post-pandemic demand. For instance, Mercedes delivered 191,000 vehicles in China which was just 3% higher than Q1 2022. Premium brands are benefiting from the Chinese rebound, the biggest market for luxury goods. SUV models such as the Cayenne and the Macan, as well as the iconic 911, were the most popular cars. "The good start gives us confidence for the rest of the year, at the same time we remain alert and flexible in an environment that remains challenging," explained Detlev von Platen, Porsche Executive for Sales and Marketing.
Aside from the Chinese upside, 2022 has been a remarkable year for Italy. The Italian branch achieved its best result in history in terms of deliveries and sales. This was supported by the Franciacorta circuit acquisition, a space created to welcome customers and Porsche enthusiasts. Inaugurated 1.5 years ago, the Porsche Experience Franciacorta welcomed over 40,000 visitors from all over Italy and abroad, with Switzerland and Germany in the lead. This facility is dedicated to driving experiences and private events, including presentations of new models and private company activities. The Training Center will soon be opened, a multifunctional space created for personnel training, which will also become the main training hub for Porsche Classic employees (the official branch for vintage models restoration) for South -Europe. Here at the Lab, we believe that this new approach might be replicated in another geographical area.
We believe that the European Commission's decision to allow e-fuel use for vehicles represents a significant turning point for the automotive industry which will not be forced to adopt only all-electric technologies in the future. To date; however, e-fuels have still high production costs (and prices) and there are main obstacles to technology penetration. This goes from the lack of production plants to the need for further penetration of renewable energy for the electrolysis process of water. The increasing scale should lead to a reduction in production costs and we expect e-fuel use will start from some market niches, including racing (F1 will adopt e-fuel from 2026) and the high-end of the automotive market (top premium models). A scenario in which Porsche seems to be well positioned. Indeed, the company, in a joint venture with other players, has already invested more than €100 million in a new project in Chile for the creation of an e-fuels pilot plant, which is producing 130 thousand liters/year and which should increase to 55 million liters by 2026. By the end of the decade, Porsche aims to achieve a carbon-neutral value chain for its vehicles. Despite disproportionately high bottlenecks in the BEV supply chain, in Q1, Porsche reached 11.4% in EV deliveries out of the total units sold, confirming a leading position among auto players.
Conclusion and Valuation
Q1 revenues are accelerating compared to Q4 results, while RoS reached 18.2% in line with our initial estimates. Indeed, we were forecasting a mid-point margin of 18% for 2023. Regarding the valuation, as already mentioned and despite the Q1 positive results, Porsche AG confirmed its yearly guidance. Using our 19x price earning target multiple, we ended up valuing the company with a €117 target price (slightly higher than €110 per share resulting in our initiation of coverage). Therefore, we decided to maintain our equal weight valuation. Our neutral target price is also backed by a reverse discount cash flow with an operating profit margin of 18% and a weighted average cost of capital of 8%. Risks are also included in our first publication.
Editor's Note: This article discusses one or more securities that do not trade on a major U.S. exchange. Please be aware of the risks associated with these stocks.