iPhone 15 Pro Max vs Pixel 7 Pro: Expected differences
Intro
The upcoming iPhone 15 Pro Max is shaping up to be quite the monumental yearly update for Apple, as the gargantuan iPhone will be tasked with quite the heavy burden this fall. It will not only mark one of the grander design overhauls to the iPhone lineup in recent years, but will also finally score improved zooming capabilities and USB Type-C, probably two features that sit on top of every iPhone fan's wishlist. 
The faster, sleeker, and more advanced iPhone 15 Pro Max will have to compete with the multitude of Android competitors on the scene, but also with some of its predecessors, which still offer excellent value. 
Of course, we don't yet know all the specifics about the iPhone 15 Pro Max, though the rumor mill is in high gear. Although most of its hardware specifications and features have been leaked already, there's always that sense of uncertainty with iPhones until they get officially revealed on stage. So, this comparison is based on all the current leaks, have that in mind. 
IPHONE 15 PRO MAX vs PIXEL 7 PRO expected differences:

Apple A17 Bionic 3nm vs Google Tensor G2 5nm
Thinner bezels (iPhone 15 Pro Max)
Titanium build (iPhone 15 Pro Max)
8GB RAM (iPhone 15 Pro Max) vs 12GB RAM (Pixel 7 Pro) 
128GB, 256GB, 512GB, 1TB (iPhone 15 Pro Max) vs 128GB, 256GB, 512GB (Pixel 7 Pro)
48MP main camera with larger sensor (iPhone 15 Pro Max) vs 50MP main (Pixel 7 Pro)
5-6X periscope zoom (iPhone 15 Pro Max) vs 5X periscope zoom (Pixel 7 Pro)
New Action button (iPhone 15 Pro Max)
12MP selfie camera (iPhone 15 Pro Max) vs 10.8 selfie camera (Pixel 7 Pro)
Table of Contents:
Design and Size
Big changes for the iPhone
The current expectations are that Apple will greatly change the design philosophy with the iPhone 15 Pro max (and the iPhone 15 Pro). Rumors have it that we'll see a titanium frame on the next big iPhone, which would have some very tangible real-life benefits. Unlike stainless steel, which was used on most premium iPhones in the past few years, titanium is lighter and stronger, while essentially holding no fingerprints. This means that the next iPhone will be easier to handle and wouldn't let fingerprint oil ruin its premium body. The soon-to-be signature Dynamic Island punch-hole is staying as well. 
The iPhone 15 Pro Max might also come with the thinnest bezels on a phone, at just 1.55mm. This will be superior to the Pixel 7 Pro, not to mention the Galaxy S23 and S22's 1.95mm-wide bezels. It would even beat the current holder of the "slimmest bezels on a phone" title––the Xiaomi 13 with its 1.81mm-wide side frame. This would definitely boost up its ultra-premium status. 
Meanwhile, the Pixel 7 Pro retains the general design of the previous Pixel flagship, with a glass-metal sandwich build with a slightly curved front that has a redesigned rear camera strip that blends in with the side frame of the phone. It's a slight departure from the all-black camera strip of the Pixel 6 era, but we definitely look the new look of the Pixel lineup.
Another big change with the iPhone 15 Pro Max will be the adoption of USB Type-C and a new Action button that substitutes the classic mute switch. Both of these changes are major because they will essentially change years of Apple tradition and do away with the signature Lightning port and mute switch. 
In terms of colors, the Pixel 7 Pro is available in Obsidian (black), Snow (white), and Hazel (gray-green). At the same time, we suppose that the iPhone 15 Pro Max will come in a new deep red color aside the classic Space Black, Silver, and Gold.
The Pixel 7 Pro doesn't come with a wall adapter in the box, and we really doubt that the iPhone 15 Pro Max will have one either. 
Display Differences
The iPhone 15 Pro Max will come with a 6.7-inch display up front, similar to its predecessors. Actually, there might not be too many changes in the display departments here, so we expect to see the same killer Super Retina XDR HDR OLED display with excellent contrast and color reproduction as well as super-smooth dynamic ProMotion refresh rate. Flagship iPhone displays are already some of the brightest you can see around, so there's a possibility we'd see an even brighter display on the iPhone 15 Pro Max. 
The Pixel 7 Pro also comes with a 6.7-inch OLED display with a very smooth and pleasing-to-use display with dynamic refresh rate that switch between 10 and 120Hz and in-between. It's also quite sharp with its QHD+ resolution which gives it that small but important edge over the standard FHD+ display you might see on most 'regular' flagships these days. The Pixel 7 Pro also boasts a quite bright display that can reach up to 1,500 nits of maximum brightness in certain lighting conditions.
A big difference between the iPhone 15 Pro Max and the Pixel 7 Pro is the biometric authentication on board. While the Pixel 7 Pro comes with both picture-based Face Unlock and a secure fingerprint sensor built into the display, the iPhone 15 Pro Max will be solely relying on Face ID, which combines the ease-of-use of face unlock with the security of a fingerprint sensor. 
Performance and Software
Apples and oranges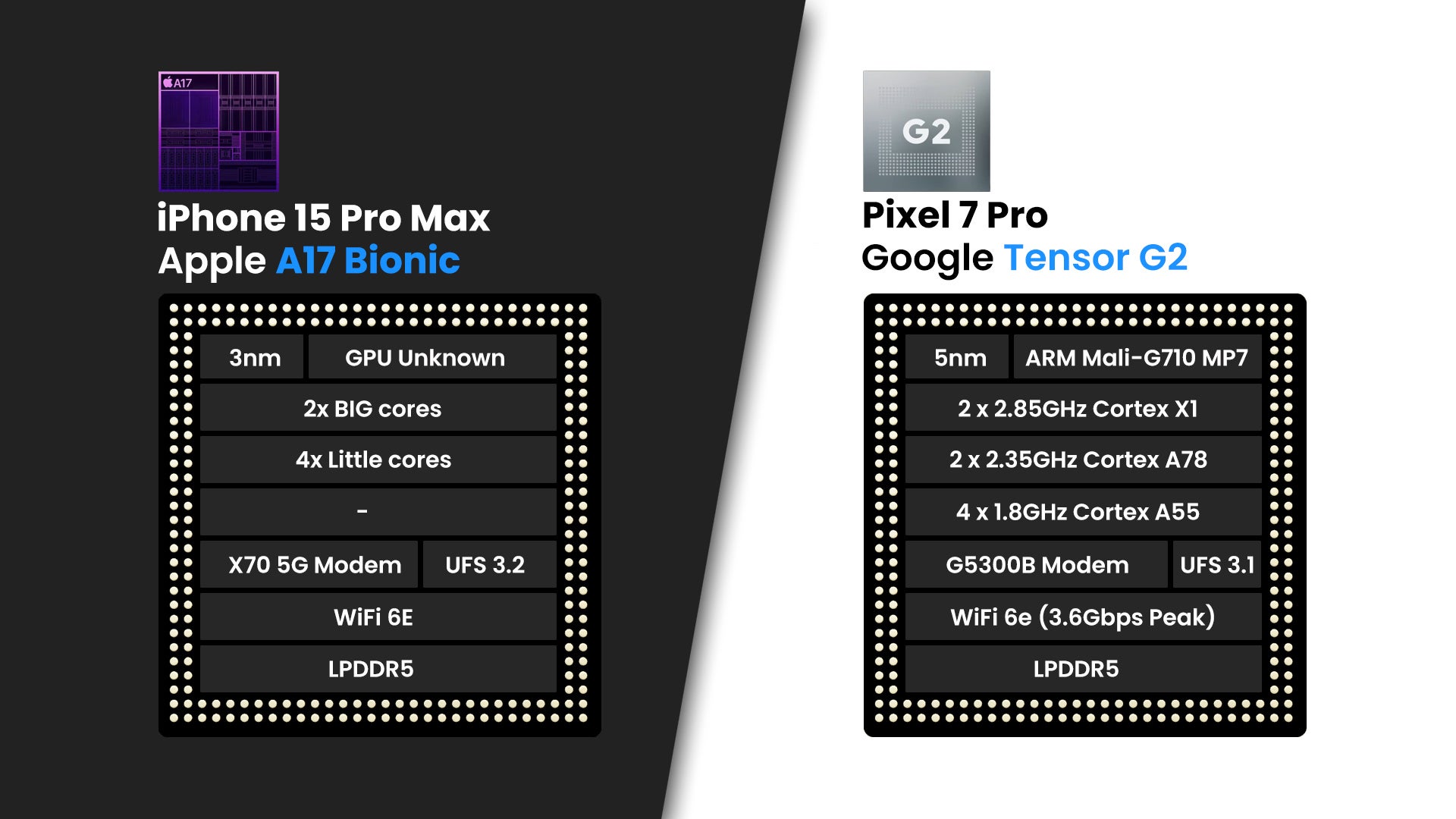 For the past few years, most flagships have come with 5nm chipsets, the iPhone 15 Pro Max will quite possibly be the first phone with a 3nm chipset around, the Apple A17 Bionic, and this is kind of a big deal. What does this mean in layman's terms? 
This very advanced process will allow chipsets to utilize a few billion additional transistors that will not only greatly improve performance, but also enhance their power efficiency. This would deliver great benefits on two fronts: overall raw performance capability and projected battery life, which are very important pillars of everyday smartphone usage. So, to sum up: the Apple A17 Bionic chip is expected to be both more efficient and more powerful than its immediate predecessor, a major win for all potential adopters.
Another chip that's very likely to be easily trounced by the Apple A17 is the Google Tensor G2, the workhorse that's kicking and ticking inside the Pixel 7 Pro. The reasons for that are two: Apple possibly coming up with the fastest and most efficient chipset in 2023 and Google's polar-opposite philosophy which revolves around the user experience and AI/ML proficiency. Although not as powerful as most other flagship chips, the Tensor G2 is still a pretty adequate silicon. Sure, it's not a powerhouse, but does it even need to be?
Just like the Pixel 7 Pro, the iPhone 15 Pro Max will likely start with 128GB of storage on board, and go up to 256GB and 512GB. However, the iPhone 15 Pro Max will likely come in an industry-topping 1TB version, which is as spacious as they come these days, enough for years' worth of photos, videos, and music. We will also be getting 8GB of fast RAM on the iPhone 15 Pro Max, while the Pixel 7 Pro has 12GB of LPDDR5 RAM.
How long will each phone be supported? The Pixel 7 Pro will receive major software updates until October 2025, or until Android 16 hits us, as well as security support until 2027. Meanwhile, the situation isn't very clear with the iPhone 15 Pro Max. Yes, it should technically get five years of both major and security updates, so until 2028, but Apple has recently prolonged the life of some older models, so who knows, maybe this one wouldn't be considered outdated until the end of the decade. 
The iPhone 15 Pro Max will come with iOS 17, which will be unveiled in early June. Meanwhile, the Pixel 7 Pro will get Android 14 in late August, ahead of the iPhone 15 Pro Max's announcement. 
Camera
Triple-camera monsters
We expect that the iPhone 15 Pro Max will come with a 48MP wide-angle camera, similar to the one that debuted on the iPhone 14 Pro Max. Why similar? Because the resolution will remain the same (48MP), but the iPhone 15 Pro Max could utilize a larger sensor. This would potentially allow it to have much better imaging capabilities, especially in limited light, and that's our single most anticipated feature of the iPhone 15 Pro Max camera. 
The Pixel 7 Pro comes with a 50MP wide camera with an f/1.85 aperture, mostly similar to the Pixel 6 Pro's camera. With this one, you actually get two cameras in one: a new 2X camera mode was introduced with the Pixel 7 Pro, which crops the central 12MP area of the sensor, giving you a zoomed-in 12MP photo with excellent quality.  
So far, we haven't heard about any major improvements that might be destined for the iPhone 15 Pro Max camera. It will likely come with the same 12MP camera sensor, with an f/2.2 aperture and 120-degree field of view. Meanwhile, the Pixel 7 Pro also scored a slightly wider 12MP ultra-wide camera, and now mostly matches other flagships in terms of how much it could fit into the scene. 
With the iPhone 15 Pro Max, Apple is finally jumping head-first into long zoom. The phone is heavily rumored to come with a periscope telephoto camera that will likely achieve up to 5X or 6X optical zoom, and much longer hybrid zoom. That's quite similar to the 48MP periscope found on the Pixel 7 Pro, which can zoom up to 30X and use software trickery to eliminate hand shakes and jitter.
We don't expect any changes in the selfie camera department with the iPhone 15 Pro Max. This means that we should likely expect the same 12MP FaceTime camera that was found on the iPhone 14 Pro Max, which delivers excellent image quality. The Pixel 7 Pro also has a very decent selfie camera, which weighs in at 10.8MP. 
When it comes to video recording, we have very high expectations for the iPhone 15 Pro Max, fuelled by the years of exceptional video recording capabilities with previous iPhone flagships. We expect that the iPhone 15 Pro Max will once again be among the best phones when it comes to recording video, though it's unclear if Apple will finally move past 4K@60fps recording and offer us more advanced options, likely 8K@30fps or preferrably 4K@120fps, which would give more leeway for post-processing. 
The Pixel 7 Pro is decent but not excellent when it comes to video recording. Colors are a bit dull and gloomy, with some noise present at low light. 
Audio Quality and Haptics
The iPhone 15 Pro Max will most certainly remain a dual stereo-speaker phone that will output excellent audio quality. No 3.5mm audio jack will be present on this one.
The Pixel 7 Pro has a dual-speaker setup consisting of a bottom-firing loudspeaker and another speaker in the earpiece. Although it lacks some depth and richness in the base frequencies, the Pixel 7 Pro outputs very decent sound. 
Haptic feedback has always been great on flagship iPhones, and we don't expect the iPhone 15 Pro Max to be much different. The Pixel 7 Pro also has excellent taptics, improving the user experience. 
Battery Life and Charging
Great hopes for the 3nm future
Given that the size wouldn't change much, we expect that the iPhone 15 Pro Max will have a battery in the same ballpark as the iPhone 14 Pro Max, possibly in the 4,200-4,300mAh range. There might be a slight hit in battery capacity as the periscope camera component is slightly larger than your average telephoto camera and might take more internal space than before. The 3nm Apple A17 Bionic could be the one missing piece that will finally bring exceptional battery life to the iPhone series.
Charging-wise, we doubt Apple would bring any significant benefits, so the iPhone 15 Pro Max would likely come with up to 27W wired charging and 15W MagSafe wireless charging. 
The Pixel 7 Pro has a large 5,000mAh battery that delivers very decent battery life in comparison with most previous Pixel phones and the rest of the Android top brass. Surely, the efficiency and humbler specifications of the Tensor G2 help it achieve such good battery life. 
The Pixel 7 Pro maxes out at both 23W wired and wireless charging, provided that you buy Google's own Pixel Stand wireless charger.  
Specs Comparison
iPhone 15 Pro Max
Pixel 7 Pro
Size, weight
159.86 x 76.73 x 8.25 mm
162.9 x 76.6 x 8.9 mm 
Screen
6.7″ OLED
120Hz ProMotion
6.7″ OLED QHD+
120Hz
Processor
A17 Bionic
3nm
Google Tensor G2
5nm
RAM, Storage
8/128GB
8/256GB
8/512GB
8/1TB

LPDDR5

8/128GB
8/256GB
12/128GB
12/256GB
12/512GB

LPDDR5

Cameras
48MP main
12MP ultra
12MP 5X-6X zoom

12MP front

50MP main
12MP ultra
48MP 3X zoom

10.8MP front

Battery
4323 mAh*
5,000 mAh
Charging
USB-C
27W wired
MagSafe
USB-C
23W wired
23W wireless
Summary and Final Verdict
Overall, we expect that the iPhone 15 Pro Max will be quite the serious competition to the Pixel 7 Pro. The iOS-powered phone will be a dominant force to be reckoned with, the yardstick that all phones will have to contend with. 
All of those improvements won't come cheap, though. Apple is actively rumored to raise prices by $100 across the board, which would mark the first essential price hike for the Pro Max line. With all the rumored improvements on deck, however, this one could be sort of justified, as they'd finally elevate the iPhone Pro Max to the ultra-premium level. 
Meanwhile, Google's best traditional phone so far embodies the best of Android in 2023, with a pristine software that isn't found on other phones and a hardware that's shaped to fulfill the unique needs of an AI/ML-driven experience. 
Another important difference between the iPhone 15 Pro Max and the Google Pixel 7 Pro is that the latter is a real product that you can actually buy right now. Should you do that? Well, if you're on the market for a new Android phone, I'd recommend you look into that, yeah. However, if you're deeply invested in the Apple ecosystem and are in no rush to upgrade right now, I'd say wait to see how things transpire for Apple with the iPhone 15 Pro Max.