Horror Legend Ikumi Nakamura On Her New Dead By Daylight Looks
Ikumi Nakamura, founder of game development studio Unseen and E3 conference fan-favorite, has designed three new skins for the popular asymmetrical survival horror game Dead by Daylight. The collaboration is part of a series of announcements developers made during the game's Year 7 Anniversary Broadcast last week, which also revealed Iron Maiden-themed skins, a new Killer character, and a menacing cameo from widely beloved/feared actor Nicolas Cage. While players will have to wait for summer to receive any of it, Nakamura talked to me over video chat (through a translator) about the outfits she designed, and the care she put into them makes them seem worth waiting for.
The Week In Games: Protecting The Precious And Time-Twisting Platformers
Read More: GhostWire: Tokyo's Ikumi Nakamura Introduces Her New Studio, Unseen
It's not only this care, though, that makes Nakamura's new designs compelling, but also their enveloping "curse," the word she chooses to summarize them. "Each of the characters has that [cursed] aspect."
Nakamura is not one to cower from an approaching curse. She'd embrace it instead, feeling like the horror genre is her "home," she says, and that designing for it is "an innate ability." In 2010, she joined Resident Evil director Shinji Mikami's newly formed game studio, Tango Gameworks, and worked on several of its horror titles, including 2022's Ghostwire: Tokyo, for which she acted as creative director. She's continually inspired by notable Japanese horror director Kiyoshi Kurosawa and more recently, Ari Aster's deranged 2019 movie Midsommar, where a commune's flower-power festival ends in mass murder.
"I want to be in the festival," she says.
Dead by Daylight arrived in Nakamura's life in the much less brutal, but still sometimes exhilarating, form of an email. Developer Behaviour Interactive reached out "one day, out of the blue," she says, asking her to create new skins for existing DbD characters as part of its Artists From The Fog Collection, which contains outfits made by five different artists.
"I was very excited," Nakamura says. "I asked Behaviour to pick a few popular characters," and demonic Killer The Oni, Killer Julie Kostenko, and tough motorcyclist Survivor Yui Kimura were put in her hands.
The rest of the process was simple, she says. Nakamura looked to each character's unique backstory for her sartorial choices, which skew dark gray, coated in somber levels of grime. This is on purpose, especially for the Oni, an outcast samurai disgraced by his unchecked bloodlust.
"I pictured where he would live, what kind of lifestyle he would have," Nakamura says. "He probably wouldn't be clean, living deep in a mountain or something, so that's reflected in his outfit: a little bit disheveled, a little bit dirty.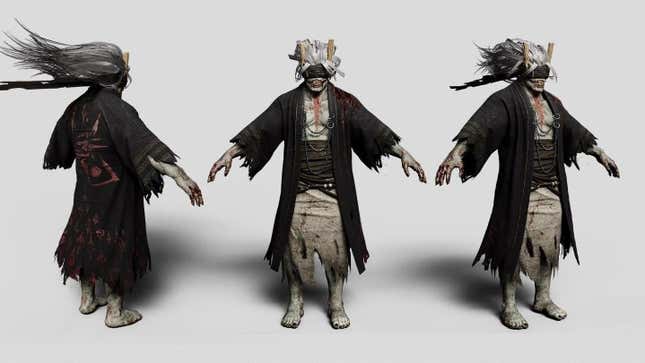 "I looked at his background and applied a little bit of a new perspective to it." In Nakamura's design, the Oni's horned mask is replaced with uneven, yellowing candlesticks. Instead of bulky, nearly immaculate armor, he wears a ragged black yukata weighed by rows of low-slung beads. If the Oni wears Nakamura's outfit, gore will no longer splatter impenetrable boots, but bare feet with patches of raw, red skin and black toenails, physical proof of his sickness.
It's a fearsome take on the character, but Nakamura is particularly proud of her feminine interpretation of Julie, who, in Dead by Daylight, is a member of The Legion, a team of homicidal teenagers.
Nakamura takes Julie out of her unassuming black jacket, jeans, and hoodie and wraps her in a weighty '70s-style Japanese schoolgirl uniform. But the prim uniform is dotted with blood, and Julie seems to have embroidered in it a threat in kanji, like a "delinquent girl," a member of the vintage sukeban subculture.
"There's no existing [sukeban] character in the game," Nakamura says, "so I'm excited to see how the users like it."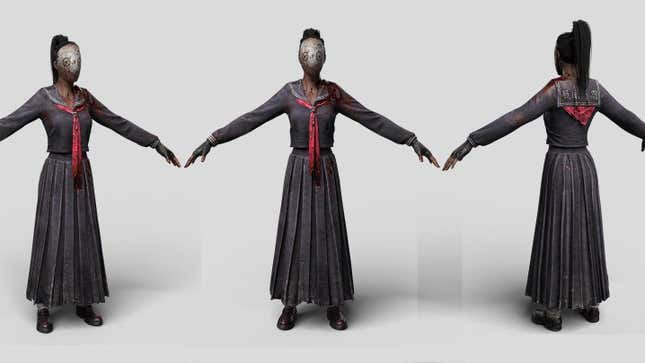 She approached designing the Killers, who, in Dead by Daylight, are tasked primarily with pursuit, and Yui, a Survivor, who mostly just needs to escape, differently out of necessity. "One is following someone, one is being followed," she says.
Survivor players "need to be able to tell the killer is coming, [so the Killer themselves] needs to stand out," Nakamura continues. She added the candles to the Oni's head to make his approach more obvious, and she tried to make being vulnerable something of a style choice for sporty Yui.
"I made an outfit that goes well with [potentially] being injured," Nakamura says. "The material of the design"—mesh, spandex, and leather—"goes well with blood."
She's practiced thinking hard about this—storytelling through a top, bottom, and pair of shoes—in her decades spent designing original horror characters. She knows that "if the character is going to die, they have to die in a pretty way.
"If the character is a killer, I consider how they would look when the animation is put in, and what kind of weapon they're going to use," she says.
Nakamura hopes that players will be able to develop a better understanding of their favorite characters through her cursed, but poetic, Dead by Daylight collection.
"Many players might not be aware of each character's background," she says. "I would love for users to understand their stories [through my designs] and think about why they became a Killer, or why they became a Survivor. If they can feel that, that would be great."