ADT: A Dividend Cut Makes Sense (NYSE:ADT)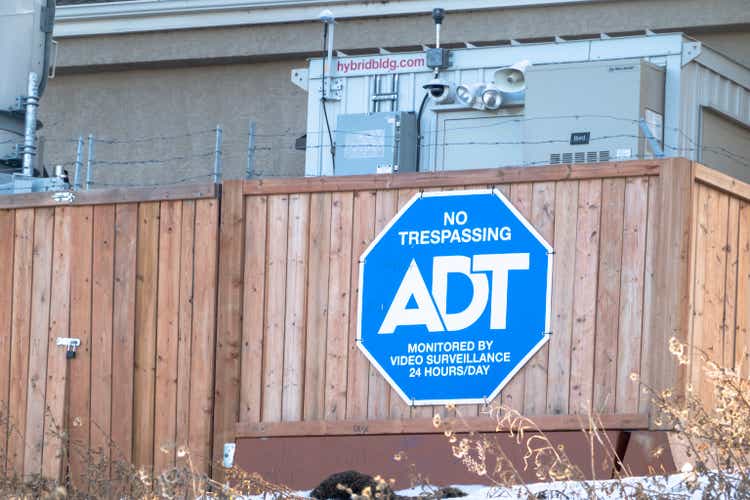 Intro
We wrote about ADT Inc. (NYSE:ADT) back in December 2021 when we stated that the Sunpro deal had the potential to really improve ADT's financials in a big way. However, we also stated at the time that the initial response from investors to the deal was not convincing. In fact, the bearish technicals, which we outlined in December 2021 eventually came to pass, which resulted in shares stooping down to close to $6 a share by the middle of last year. Although shares recovered somewhat in the following months, shares once more began to turn over sharply by December of last year.
The down-move since then has been aggressive, to say the least, with shares at present fighting to regain long-term support, as we see below. The worrying sign though from a technical standpoint is the turning down of the stock's 200-day moving average. Bulls will be hoping that this is not an ominous sign that lower lows may still be on the cards, which may also result in a dividend cut or suspension in the stock. Therefore, from this perspective, let's look at the trends of the key financial metrics which make up ADT's dividend, as this exercise can give us insights into the fundamental strength of the security company at this moment in time.
GAAP Earnings Pay-Out Ratio
Although ADT's sales rose to $1.612 billion in Q1, the company's net profit came in negative at -$89.7 million. This means (taking into account the company's negative earnings in Q3 of last year) that ADT's trailing twelve-month profits now come in at a mere +$31.3 million. Suffice it to say, given that $127+ million was paid out in dividend payments over the same timeframe, ADT's dividend from the very outset looks unsustainable at this juncture.
Free Cash Flow
ADT's cash-flow position looks much stronger, with the company generating $1.88 billion of operating cash flow over the past four quarters and free cash flow of $0.47 per share. These numbers equate to a cash dividend payout ratio of under 30% and a free-cash-flow yield of over 8%. Although these numbers may illustrate ADT's financial strength, we must remember that cash flow can be generated in a myriad of ways (drawing down debt or selling assets, etc) which is why the balance sheet must be consulted to ensure it is not being impaired in any way.
Balance Sheet Leverage
At the end of Q1, $9.33 billion of long-term debt was reported on ADT's balance sheet, which is a sizable number considering shareholder equity came in at $3.31 billion after the same quarter. This means the debt-to-equity ratio comes in close to 300% which obviously brings risk despite management's recent comments regarding the company's limited forward-looking interest risk exposure. Up to now, in order to meet near-term notes, the company has been paying off near-term debt through more borrowings and cash on hand from the balance sheet. As a consequence, ADT's interest expense has ballooned higher, coming in at almost $172 million in the first quarter alone. Suffice it to say, given that operating profit in Q1 only came in $80+ million higher in Q3, this trend does not bode well for sustained cash-flow growth going forward.
Goodwill Impairment
ADT registered a goodwill impairment charge of almost $200 million connected to the solar side of the business, which lost money in the first quarter. This goodwill is essentially the 'fat' over book value on the Sunpro deal. Although the impairment is a non-cash charge which does not necessarily affect cash-flow generation, what it does affect is the company's equity (net worth) and debt ratios (which are already high). Furthermore, despite the recent Q1 impairment, goodwill and other 'intangible' assets account for over $10.6 billion of assets or 60% of ADT's total assets ($17.54 billion). These levels of numbers definitely leave the possibility of more impairments taking place going forward, which would be detrimental to the company's equity & share price alike.
Forward-Looking EPS Revisions
Although forward-looking EPS estimates currently cover the $0.14 per share annual dividend, revisions continue to be dialed down, which is worrying. In the likely event that the solar business will remain under pressure, ADT's CSB & commercial segments need to keep gaining traction to ensure we can see some stability with respect to forward-looking expectations.
Conclusion
To sum up, after going through ADT's recent Q1 earnings report, its balance sheet as well as its forward-looking EPS estimates, it may make sense for management to actually cut or suspend the dividend at this moment in time. Although expected future earnings look to be covering the payout, the company's high debt & decreasing equity bring risk to ADT's financials overall. We look forward to continued coverage.