Leaked document shows T-Mobile will offer a free voice line to certain customers but with a catch
Nothing excites consumers more than the four-letter word "free." According to an internal T-Mobile document shared with
The Mobile Report
, T-Mobile seems ready to offer a free voice line to certain existing
T-Mobile
subscribers. Selected customers currently grandfathered as of May 15th on plans like Essentials, Simple Choice, Magenta, and ONE could be eligible to receive a free line from the carrier.
What's the catch you ask? Well, there is one. Customers selected to receive a free line will be notified starting May 23rd and must have already migrated their entire account to T-Mobile's new Go5G Plus plan. Additionally, the subscriber must have two paid voice lines. The documents also mention "segments" which are notes related to an account that a T-Mobile rep can view. If a "segment" on an account shows "2023Q2 BYOD Free Line w/DCC," the customer can move to the Go5G Plus plan and add a free voice line.
T-Mobile is also offering the free voice line to BYOD (Bring Your Own Device) customers only. This means that those taking advantage of the free voice line won't be able to take advantage of any T-Mobile deal to buy a new phone on that line. The free line will have to use a phone already purchased, purchased somewhere else, or bought from T-Mobile at the full retail price. And there also will be a $35 Device Connection Charge (DCC) unless the transaction is completed at certain Costco locations.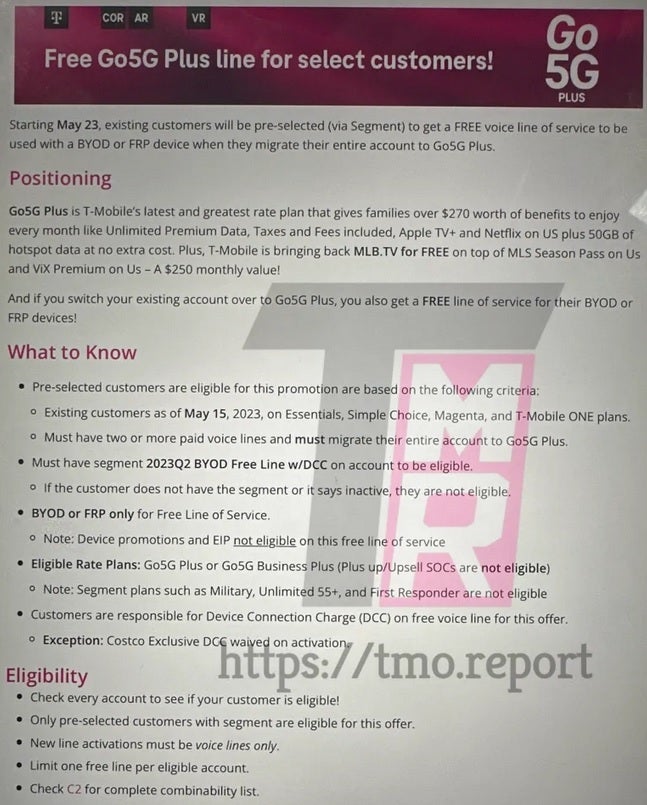 Leaked internal document reveals T-Mobile's upcoming free voice line promotion
If you're a T-Mobile customer, you can see if you're eligible for a free voice line by calling T-Mobile support or stopping at a retail location. The document obtained by The Mobile Report gives suggestions to T-Mobile reps who are dealing with inquiries by customers:
Check every account to see if  your customer is eligible!
Only pre-selected customers with segment are eligible for this offer.
New line activations must be voice lines only.
Limit one free line per eligible account.
So if you're interested in going through the hoops necessary to receive one free voice line, your best bet is probably to get in touch with T-Mobile starting on May 23rd.