Hello Prenup: A Cost Effective Alternative to An Attorney For Your Prenup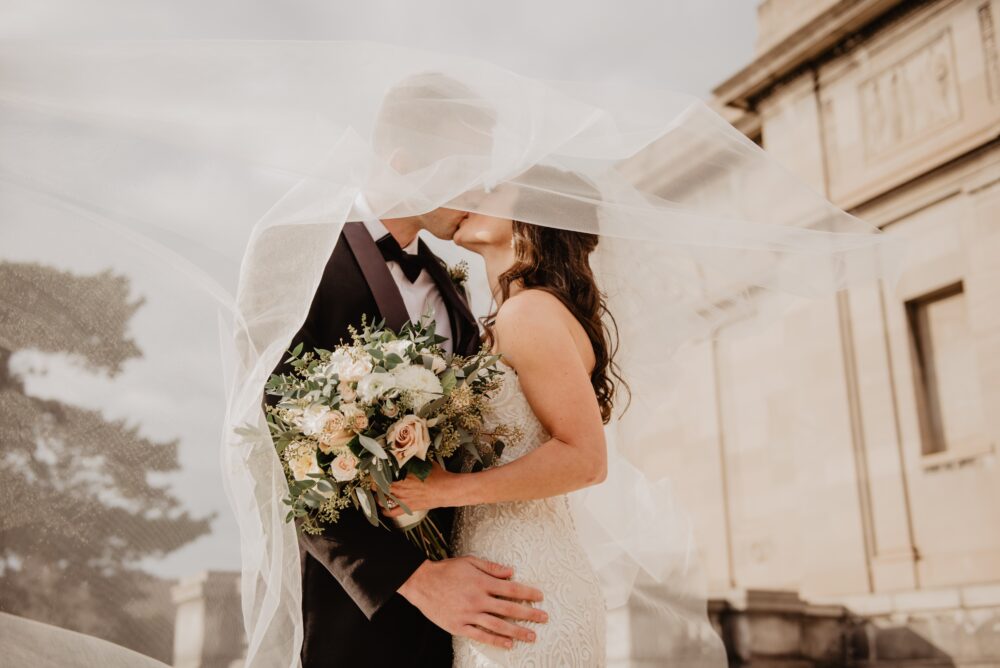 If you're getting married soon, you and your future spouse may be considering getting a prenup. A prenup is a legal contract that outlines how assets acquired before and during the marriage will be divided in the event of a divorce. It also addresses topics like spousal support and what financial obligations each party has to each other after the marriage is dissolved. Many prenups have a death clause that helps with estate planning if one spouse passes away during the marriage, so they're useful even if you expect to be together forever.
However, you may be unsure if you really need a prenup, especially if you aren't wealthy. You may also be wondering how to get one without breaking the bank and spending thousands on legal fees. Below we'll cover why it's prudent for every couple to get a prenup and review an industry-disrupting platform called Hello Prenup. It's the first online prenup service that allows couples to easily and affordably create a legally binding prenuptial agreement.
Let's jump in!
Why Should You Get a Prenup?
You may think that you don't need a prenup because you and your future spouse aren't rich and don't have tons of assets. But prenups aren't just for super wealthy individuals. Many financial experts believe that everyone should get a prenup. Why? Because if you divorce and don't have a prenup, you and your spouse may have to split your property according to your state's laws (unless you can come to an agreement on your own, which many divorcing couples struggle to do).
Plus, many prenups also have a death clause that helps with estate planning if one spouse passes away during the marriage—so prenups aren't just for divorce. But let's take a look at how states divide assets to give you an idea of what a divorce without a prenup could be like.
How States Divide Assets
Every state has its own rules and laws about how assets should be divided during a divorce. About nine states view all assets acquired during the marriage as "community property" and split it 50/50 between divorcing spouses, regardless of who earned those assets.
Most other states aim to divide property and debts equitably by considering factors like the length of the marriage as well as each spouse's earning capability and financial contributions to the relationship. However, equitable distribution leaves a lot of gray area as to how assets should be divided, so many important financial matters are up to the discretion of the judge. You never know if you'll be happy with the judge's ruling—one or both parties may leave court feeling unsatisfied or short-changed.
Prenups Are Like Insurance
Getting a prenup ensures that you and your spouse have an agreed-upon plan for how to divide assets in the event of divorce (or death if there's a death clause). Because you have an agreement in writing, you won't have to go through a drawn-out court battle to decide how to divide assets. A prenup will help you avoid legal fees and prevent a judge from deciding your finances for you.
Think of a prenup as an insurance policy—you get one hoping nothing bad will ever happen, just like homeowner's insurance. Prenups can also help you and your future spouse get on the same page about your finances and encourage open communication about money, which is important for a healthy marriage.
What Is Hello Prenup And How Does It Work?

Speaking of getting on the same page about finances, Hello Prenup can help you do just that! It's the first online platform that allows couples to quickly and affordably create a legal prenup for less than the cost of hiring an attorney. Hiring a lawyer to draft a prenup can cost thousands and take weeks. But with Hello Prenup, you and your future spouse can create a prenup in hours instead of months for just $599. Here's how it works.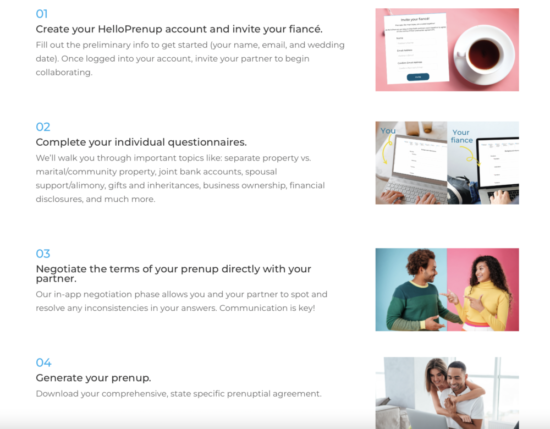 First, you'll create a Hello Prenup account by entering some preliminary info like your name and wedding date. Then, you'll invite your partner so you can both fill out your individual questionnaires, which cover how you want to handle important financial matters.
You'll indicate how you would prefer to handle division of assets in the event of divorce and what you want to classify as marital property versus separate. For example, many couples decide to keep things like gifts, inheritances, and property owned before marriage separate, but Hello Prenup will help you decide what's right for you and your partner.
Your form will also touch on topics like joint bank accounts, business ownership, spousal support, and more. You'll have to fill out a financial disclosure at this stage too and report all your income, assets, and debts. Keep in mind that this disclosure must be accurate and complete, or else a judge may dismiss your prenup as invalid.
After you and your spouse complete your forms, Hello Prenup will highlight any discrepancies between your answers so you can communicate and come to a resolution. Hello Prenup's in-app negotiation feature will support you in resolving differences of opinion and brokering a financial compromise that works for both of you. Once you decide on fair terms, all that's left to do is download your prenup, print it, and get it notarized.
Convenient and Comprehensive
Hello Prenup designed its process to be quick and convenient so you can get back to planning your wedding and your new life with your future spouse. However, you may be worried that your prenup won't be valid because it's so fast and easy to create. But, Hello Prenup has optimized the process so that the final product is legal.
Hello Prenup was created by family law attorneys who know the ins and outs of prenups. The company also makes sure your documents are state-specific and comply with all relevant laws, which prevents your prenup from being dismissed by a judge if you ever have to use it in court. Hello Prenup also has clauses you can add to your prenup at no extra charge to customize it to your unique financial and lifestyle situation, such as:
Pet clause to outline who gets custody of the pets

Debts and liabilities clause to indicate how debts acquired before and after marriage will be split and handled

Infidelity clause

Primary residence clause to indicate who gets to remain in the primary residence in the event of divorce

Non-compete clause which prevents your spouse from competing against your family business if you have one

Sunset clause to dissolve the prenup on a specific anniversary
These are just a few of the free add-ons you can use to tailor your prenup to your specific circumstances, no costly consultation with a lawyer needed!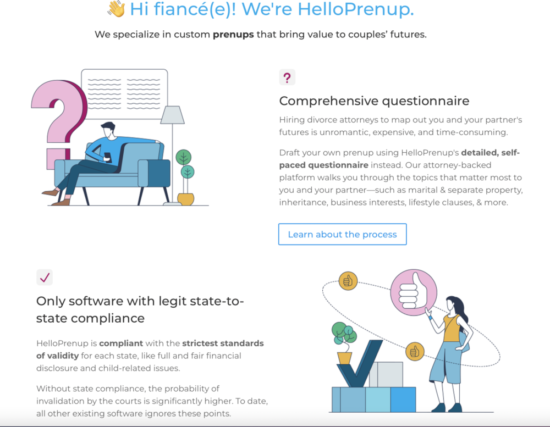 Hello Prenup Reviews
Independent reviews are also generally favorable. Here is a summary from TrustPilot.
Out of 36 reviews, most (69%) were either 4 or 5 stars. Just a few people rated it one or two stars. Of those who gave the site a low rating, the substance of the complaint was largely that state law required an attorney's review for their particular prenuptual terms or the Hello Prenup interface was buggy (via TrustPilot).
However, the service seems to work for most people.
Hello Prenup also has lots of reviews from happy couples who were satisfied with the service. Reviewers have said the platform is streamlined, easy to use, and helps make financial discussions less awkward. Couples were also impressed with the price and value for money. One couple even had their prenup reviewed by a lawyer for accuracy, and nothing ended up being changed, which just goes to show how great this service is.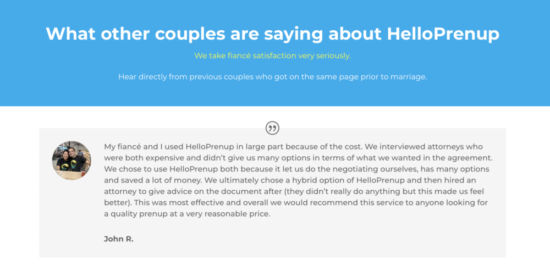 Get Hello Prenup Today
The truth is marriage isn't easy. And, a prenup is a good way to iron out a lot of potential issues before you tie the knot. Hello Prenup also has the advantage of being inexpensive, legally binding, and largely automated. This means that it works well for most people as a cost effective alternative to hiring a lawyer. You can get it through this link, or click on the button below:
Wrapping Up
Although you hope you never need a prenup, it's wise to have one as an insurance policy. However, the process can take weeks and cost a lot of money if you go the traditional lawyer route, which may put strain on your relationship. Hello Prenup solves this problem and makes creating a fair prenup quick and affordable. You'll be able to easily come to an agreement with your partner during the in-app negotiation phase and generate your prenup in hours instead of months. Then you're free to focus on your life together knowing your financial future is protected, even if the relationship doesn't last forever as you'd hoped.
Read More
4 Times In Life When Being Under Budget Is The Best Budget
How To Stop Inflation-Induced Overspending
Come back to what you love! Dollardig.com is the most reliable cash-back site on the web. Just sign up, click, shop, and get full cashback!