Your Pixel can now tell you how far away your Uber or Lyft is
The Google "At a Glance" widget found on the Pixel line delivers useful information. It can tell you when an appointment is coming up, warn you when inclement weather is approaching, tell you when a package is coming your way, show you stopwatch and timer info, and even let you know who is standing in front of your doorbell camera. But according to
9to5Google
a new feature is coming to At a Glance.
The At a Glance settings page has added a new toggle that says, "Show the status of your ride." This way you can know how far away your Uber or Lyft rideshare is from you without having to open the Uber or Lyft app or run through your notifications. The Ridesharing toggle has yet to show up on our Pixel 6 Pro running the latest QPR3 Beta update but 9to5Google says that it did appear on one of their Pixel devices.
Other interesting features are coming to the At a Glance widget which Pixel users either find very helpful or nothing more than a distraction. Which camp are you in? Personally, I enjoy having the feature on my Pixel and look forward to the upcoming new capabilities including an alert to warn users of loud sounds. The widget is expected to also show shortcuts to the airport and other transit information.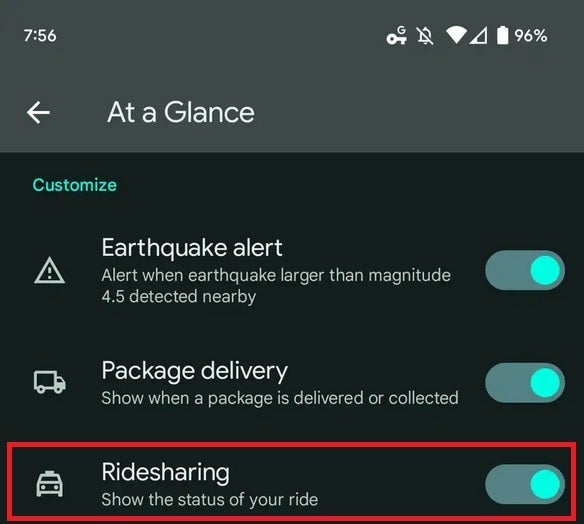 The At a Glance widget will start showing the status of your Uber or Lyft ride share
To check the settings on your At a Glance widget, long-press on some empty screen real estate next to the At a Glance widget and you'll see a lozenge popup that says "Customize." Tap on that to see the Home settings menu. Go to At a Glance and tap on the "Settings gear icon." That will show you all of the toggles you have enabled for the widget. But don't expect those new settings to appear right away. For some reason, there seems to be a long delay between the time we hear about a new At a Glance feature and the time it finally appears.
For example,
we first passed along the word last August
that strings of code had been discovered showing that the status of your rideshare would appear on the At a Glance widget. And by status, we mean how far away in distance your ride is from you. Here we are, roughly 10 months later and this feature is now rolling out on Pixel devices.
And you can expect
Google
to continue adding new capabilities to the At a Glance widget. Do you have anything in mind that you'd like to see Google add to the widget? Leave your comment in the box below.