Wolfspeed Stock: Still Looks Expensive After Pullback (NYSE:WOLF)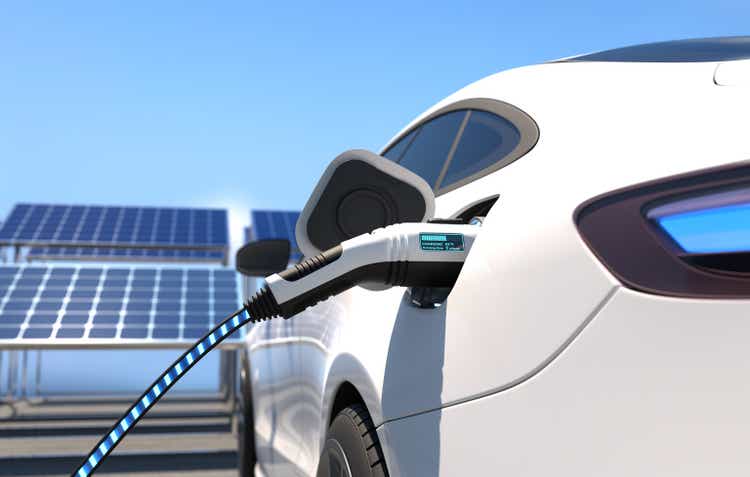 While Wolfspeed (NYSE:WOLF) has a lot of opportunities in the Silicon Carbide space as electric vehicle production grows, the company will need to spend an enormous amount of Capex going forward. Despite WOLF stock's recent pullback, its valuation still looks expensive.
Company Profile
WOLF is a maker of semiconductors that use Silicon Carbide or SiC and gallium nitride for power and radio-frequency applications, respectively. The company also makes SiC and GaN material products that are then used to manufacture products for power and RF devices.
Its SiC power devices are used in the electric vehicle and solar industries, including for things such as fast charging and battery & storage, among other applications. Its GaN RF devices, meanwhile, are used in telecom infrastructure, military, and commercial applications to help improve efficiency, bandwidth and frequency of operations.
The company was previously part of LED lighting firm Cree. Cree tried to sell its Wolfspeed business to Infineon for $850 million in 2016, but the deal was terminated due to national security concerns. It then turned around and purchased Infineon's RF business in 2018 for 345 million euros. The company then divested its lightning products and LED businesses in two separate transactions and changed its name to Wolfspeed.
Opportunities and Risks
WOLF's stock was hot for much of 2022, as silicon carbide technology has been becoming the go-to power technology for electric vehicles (EVs). SiC has superior thermal conductivity and higher energy efficiency compared to traditional silicon, which makes it ideal for the power electronics found in EVs that need to tolerate high temperatures. The ability of SiC power devices in turn helps automakers in their quest to increase driving distances and lower charging times.
Given its characteristic, SiC production is expected to increase in lockstep with increased EV production. William Blair analysts predicted that the market would grow by a 50% CAGR through 2030. For its part, WOLF see the market for SiC devices nearly tripling from $2.2 billion in 2022 to $6 billion in 2024, and being a $18-20 billion market by 2030.
EV automaker Tesla (TSLA), however, recently threw some cold water on the SiC market at its investor day with comments about using less SiC. At the event, power train engineer Colin Campbell said:
"We designed our own custom package, which is what you're seeing here. And we can extract twice as much heat out of that package as what we could buy off the shelf. And so what does that mean? It means that the silicon carbide wafer that's inside those packages can be much smaller. And silicon carbide, it's an amazing semiconductor, but it's also expensive and it's really hard to scale. So using less of it is a big win for us. …

"In our next powertrain — so silicon carbide transistors that I mentioned that are key component but expensive. We figured out a way to use 75% less without compromising the performance or the efficiency of the car. And of course, we know that battery cell supply is one of the constraints on the scalability of EVs right now. Our new powertrain is compatible with any battery chemistry. That will give us great flexibility in battery sourcing."
Some analysts have come out defending WOLF after the TSLA comments, with Roth MKM analyst Craig Irwin saying that TSLA tends to make "overstatements" and that improved packaging technology could actually be a benefit the industry as it would "accelerate adoption."
At a Morgan Stanley conference in March, CFO Neill Reynolds addressed the issue noting that this was only for the low-end of the market and that it could expand the TAM. He said:
"So what that means is if you're talking about the very low-end power part of the market, which you could say — is silicon carbide going to be used at really low power because it's known for really great efficiencies of higher power. We're probably expanding the TAM for the silicon carbide penetration part of that. So it probably strengthens the TAM over time.

"And when we work with our customers, we are generally seeing, from our point of view, is really a transition to a more — either multiple power but an 800-volt architecture and the reason we can only use silicon carbide. And the reason for that is you get the benefits of silicon carbide at the higher voltage levels.

"So regardless of where people go, if this is the way that this starts to head or whatever it might be, regardless of what that is, it's probably good for silicon carbide because there's going to be more of it, which then brings us back to, we probably need more supply, industry needs more supply, and we need to really support what this transition to electric vehicles is going to look like."
Notably, this appear to be for future TSLA vehicles and not current models, and of course, TSLA is not the only EV maker. Whether this is only for the lower-end of the market or whether it can be expanded to the higher-end of the EV market is still to be seen, but it is a potential risk.
Competition is also a risk, as WOLF is far from the only company in this space. Others include STMicroelectronics (STM); Coherent (COHR), which merged with II-VI; ON Semiconductor (ON); SiCrystal; SK Siltron; and others.
Meanwhile, competition also set to increase in the space. On its fiscal Q1 earnings call, semi-testing company Aehr Testing (AEHR) noted it has two of the top four silicon carbide companies as clients and expects to win multiple deals in the space this fiscal year. It also said it is in talks with "all existing and future silicon carbide suppliers," indicating that even more companies are looking to enter this space.
For its part, STM is building a giant SiC substrate plant in Europe, and hopes to source 40% of its needs internally by 2024. The company currently has a wafer supply agreement with WOLF. It also supplies SiC MOSFETs to Tesla (TSLA). STM was the world's largest silicon carbide supplier in the world last year.
ON, meanwhile, opened a new SiC facility in New Hampshire in August that will increase its silicon carbide production capacity by 5x. The company said its silicon carbide revenue will exceed $1 billion in 2023.
WOLF also has a ton of CapEx ahead of it for a company that doesn't currently generate any operating cash flow, let alone free cash flow. At an Evercore conference in the fall, management said the company is in hyper-growth mode while indicating that no FCF would be coming for quite some time. The capital markets will be important for its growth going forward, with it adding to its 10-K risk factors that "the inability to obtain adequate financing from debt or capital sources in the future could force us to self-fund strategic initiatives or even forego certain opportunities, which in turn could potentially harm our performance."
Given its lack of cash generation, the company will likely continue to dilute shareholders via equity or convertible offerings over the next few years. WOLF issued $650 million in 0.25% convertible notes due in 2028 earlier last year with an initial conversion price of approximately $127.22. It then turned around in November and issued $1.53 billion in 1.875% convertible notes due November 2029.
Valuation
WOLF trades at 6x P/S multiple based on FY24 (ending June) revenue estimates of $1.35B, which values it at a price similar SAAS companies. However, WOLF is not a software firm, it's a semiconductor company. As such, it doesn't have anything close to software-like margins – last quarter's gross margins were 31% vs 80%+ for SaaS. It's also trading at over its 2026 TAM (total addressable market) estimate of $6 billion.
Now WOLF's price and valuation have come down a lot. In addition, gross margins should improve as WOLF moves to larger 200mm wafers, but gross margins will continue to be limited in how far they can be pushed higher.
WOLF must make large capital investments to increase its production capacity. Last fall, it announced it would build a multi-billion facility in North Carolina. Phase one of the new facility will cost $1.3 billion and be ready by 2024. The in February, it announced it would build a new $2.2 billion plant in Germany to expand SiC production. WOLF has said it could spend around $6.5 billion adding capacity through 2027.
If WOLF can generate $4 billion in revenue at 45% gross margin in 2027, it would generate $1.8 billion in gross profits. Adding $5 billion in capex spend to its EV (assumes it raised $1.5 billion already), that would put it at 7.7x FY27 gross profits. Estimating out expenses minus D&A ($650 million), maybe it can do $850 million in FY27 EBITDA, so it's trading at about 16.4x FY27 EBITDA. That's not particularly cheap for 4 years out.
The company for its part is looking for even more margin expansion and lower operating expenses, which put its valuation at 7.7x EBITDA, which would be fairly attractive. But that would require some strong execution, something that hasn't been the case the last few quarters. As such, I prefer to stay on the sidelines for now.
If you like the SiC story, I prefer AEHR, which I wrote up here.