What I'm Packing for Labor & Delivery
Happy Friday everyone, I'm officially 38.5 weeks now and feel like I can go into labor any day now so I thought I'd share everything I'm packing for labor and delivery. These are my tried are true products that I packed for the hospital last time or at least wish I would have packed the first time.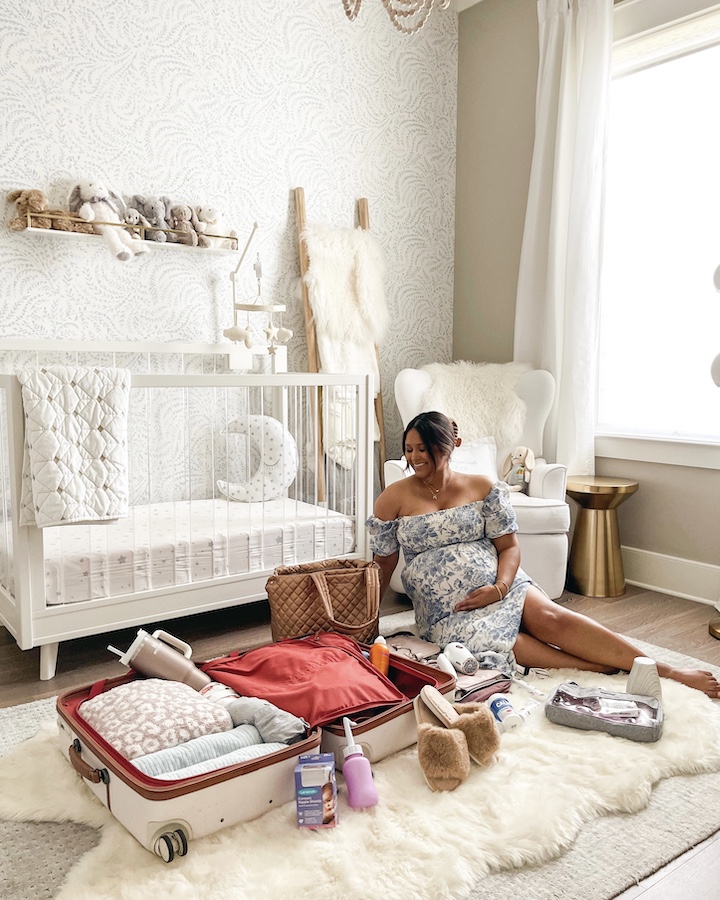 This blue and white smocked dress is so cute with a bump, but will also be so pretty for post baby too.
What I'm Packing for Labor & Delivery:
Ritual Prenatal vitamins | Their prenatal includes 12 essential nutrients with high quality ingredients your body can actually absorb. I love the no-nausea capsule design so I can take my in the morning or night. Other prenatal vitamins made me nauseous or just made my stomach hurt. @ritual prenatal vitamins are vegan certified and have no shady additives, fillers or colorants. They feel gentle and easy on my stomach while helping support every stage of pregnancy. They offer free-shipping are delivered straight to your door with their easy monthly subscription service. Take 10% OFF your first 3 months with code: HAUTE
Calm gummies | The Calm gummies are a must! They're a magnesium supplement and work even better than Colace in my opinion. Not only do they soften the stool, but they also regulate you. Also, drink plenty of water, apple juice and pineapple juice to help you in that department too.

Blanket, personal pillow & pillow case | I highly recommend bringing your own blanket and pillow from home for extra comfort. Just be sure to use a different colored pillow case on yours so you know which one is yours and can spot it before you leave.
YL Essential Oils & Diffuser | Lavender & Calm to help relax and Peppermint in case I get nauseous. I also packed Thieves Hand Sanitizer because I like how it doesn't dry out your hands.
Silverette Nursing Cups  | Wear these in between nursing to soothe & protect your nipples. It uses the properties of silver to promote healing.
Honest Nipple Balm & Contact Nipple Shields  | Both of these products were lifesavers last time. Use the Nipple Balm in between breastfeeding and you can use the Contact Nipple Shields to help the baby latch if needed if you're in a lot of pain while nursing. Just make sure to get the correct size for your nipples or they aren't as effective.
Fuzzy Grip Socks (or) Cozy Slippers | Stay cozy in your socks slippers, but make sure they have a nice grip to avoid slipping falling since your balance may be a little off.
Stretchy disposable underwear & comfy nursing bras | The hospital offers some great disposable underwear, but in case they're out, I really like this pack of Stretchy disposable underwear. Plus you can use them at home after or these adult diapers.
Dermoplast | They will likely have Dermoplast for me at the hospital, but since it's the key to relief when it comes to using the bathroom, I packed my own just in case. I highly suggest that you have a second bottle of this at home to use because it is vital especially if you tear like I did and have stitches.
Frida Peri Bottle | They will provide you with a peri bottle, but I like the angle of the Frida one more.
Hanging Toiletry Bag | You may want to pack your shower essentials, hair tools & makeup to look decent to snap a few photos the following day after birth. I like this specific toiletry bag because I can just leave it hanging in the bathroom at my convenience.
Frida Postpartum Kit or Frida C-sections recovery Kit | These kits have almost everything you need for a comfortable healing process.
bobby pins & scrunchies to keep my hair out of my face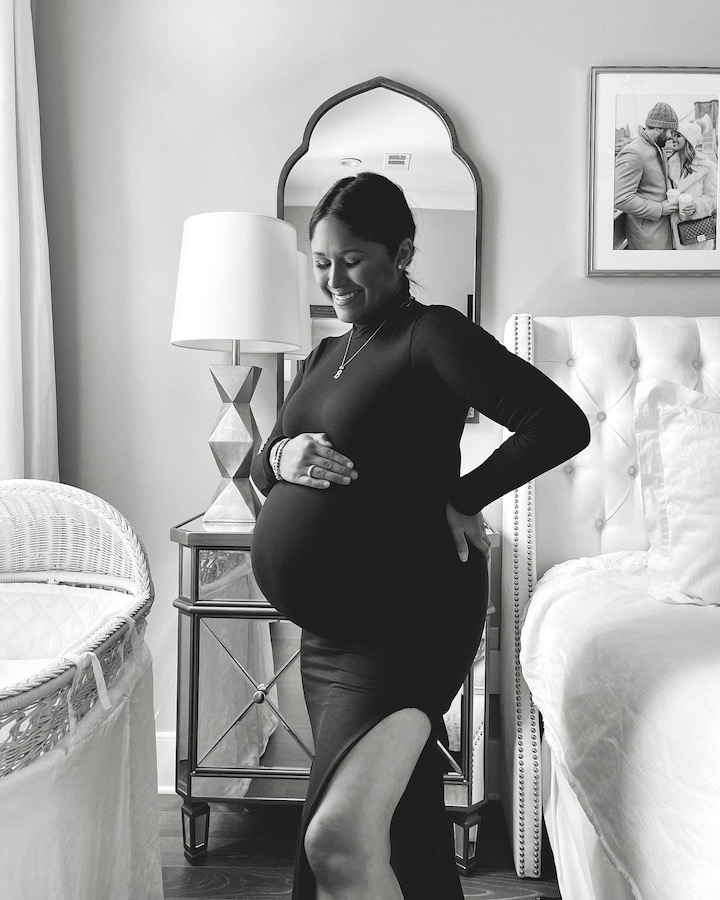 My own towel & dry shampoo in case I don't feel like washing my hair there. Speaking of showering, I also packed a pair of flip flops to wear in the shower because I'm really weird about sanitation and showering in public places.
Large Refillable Water Bottle | The hospital will offer you a water cup, but I like to have my own too that has a handle and straw.
Comfy robe & 2 pairs of nursing-friendly pajamas | I also like this short sleeve nursing pajama dress for when it's hot. I also packed one printed robe to potentially wear for day after photos if I'm feeling up to it.
Cute Outfit to wear home & comfy sandals | I packed this light blue dress with functional buttons because it's nice and loose and nursing friendly. Some people prefer compression outfits and that is definitely understandable after a c-section, but I preferred loser outfits. Also, your feet might be a tad swollen so I would pack some comfy sandals to wear home.
What We're Packing for Baby for the Hospital:
Baby Knotted Gown | I love the gowns that come with matching hats because they look so precious on them. I also prefer the knotted ones so you can fit it better to their little bodies.
Muslin blankets | We love using these blankets as swaddles and to cover the baby's little mattress like a sheet at the hospital for photos.
Sound Machine | The sound machine isn't just for the baby. It also helps us sleep too by drowning out some of the hospital noise. 
Letter board | I packed this little 10 x 10 letter board to use for photos with all of the baby's birth info on it. I already had his name filled out on it ahead of time so I just had to fill in the details like date, time, inches and weight. This is what we used for Beck.
Boppy Nursing Pillow & Protective Cover | This made breastfeeding so much easier because I didn't have to hold him up, I could just prop him up on the pillow.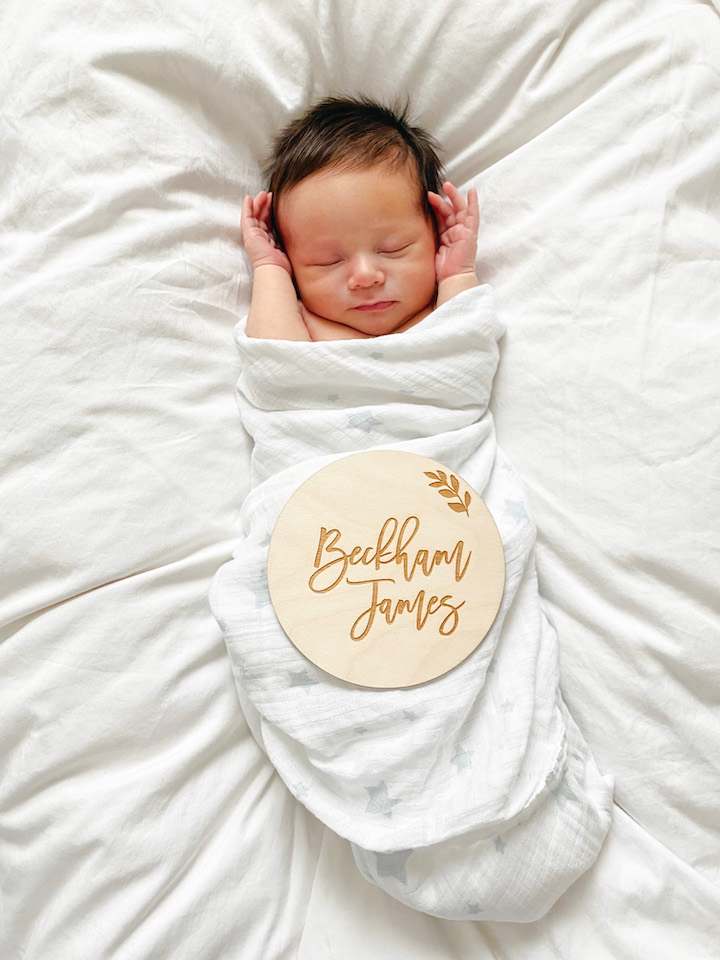 Custom Name Sign | Using a custom name sign is such a sweet way of announcing the baby's name to everyone. 
Personalized Knotted gown from Caden Lane | Caden Lane makes such beautiful swaddles, gowns and blankets, which are perfect for announcement photos. 
Night Light | A nightlight is nice to keep in the bathroom instead of having to turn on the light and wake each other up.
Swaddle Up | This is one of our favorite swaddles that we used for Beck. I'm not sure if we'll actually use in the hospital because the nurses are always so great about swaddling the babies in blankets, but we packed it just in case.
MAM Baby Pacifier | We packed a few different pacifiers to try with the baby because you never know what they're going to like. Beck ended up loving the MAM pacifiers.
Side Snap Bodysuits | These side snap onesies are perfect for middle of the night changes with newborns because they having things pulled over their head and these you can just wrap around them and button.
Coastal Blue Crosby Traveler | We packed everything for the baby in this MZ Wallace bag that I already owned because it has so many pockets and compartments that it makes the perfect overnight bag for baby.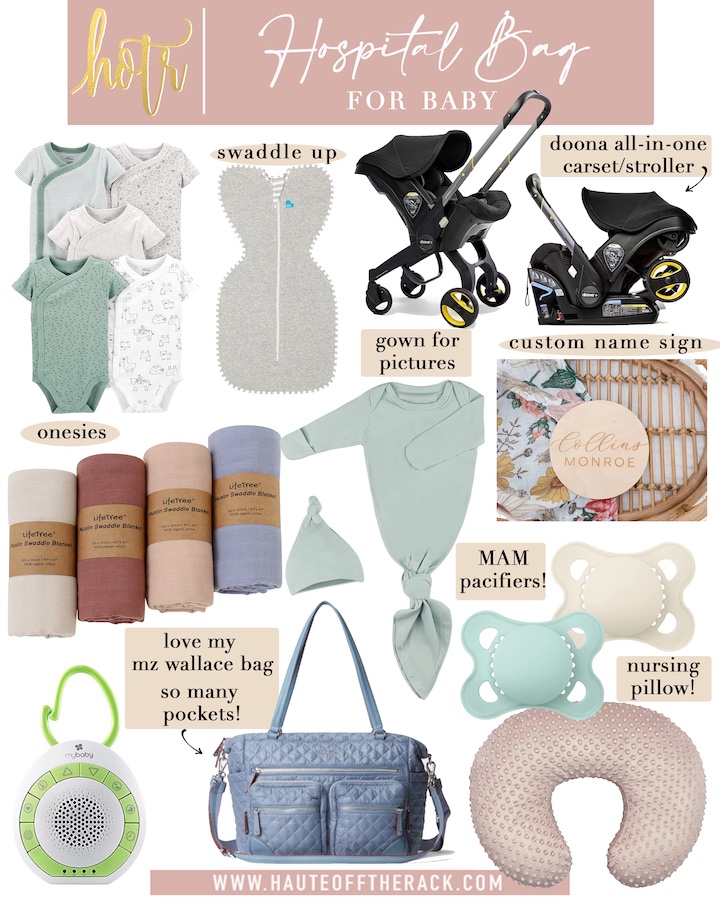 1. Side Snap Bodysuits | 2. Swaddle Wrap UP | 3. Convertible Car Seat and Stroller | 4. Baby Swaddle Blankets | 5. Baby Knotted Gown | 6. Wooden Name Sign | 7. MAM Baby Pacifier | 8. Portable Sound Machine | 9. Coastal Blue Crosby Traveler | 10. Minky Nursing Pillow Cover | Boppy Nursing Pillow | Boppy Water-resistant Protective Cover
For Blake:
Blanket, personal pillow & pillow case
towel | the towels at the hospital are super tiny so it's nice to bring one from home
Nice Shirt for photos
Pajamas 
Toiletry bag with toothbrush 
Snacks | You know I packed all of our favorite snacks to eat after the baby arrives like Oreo thins, Doritos, Milano Cookies and some kind bars. I also packed some orange Gatorade in hopes that the electrolytes will help my milk come in faster.