VEA: Quite Possibly The Sweet Spot In Equities (NYSEARCA:VEA)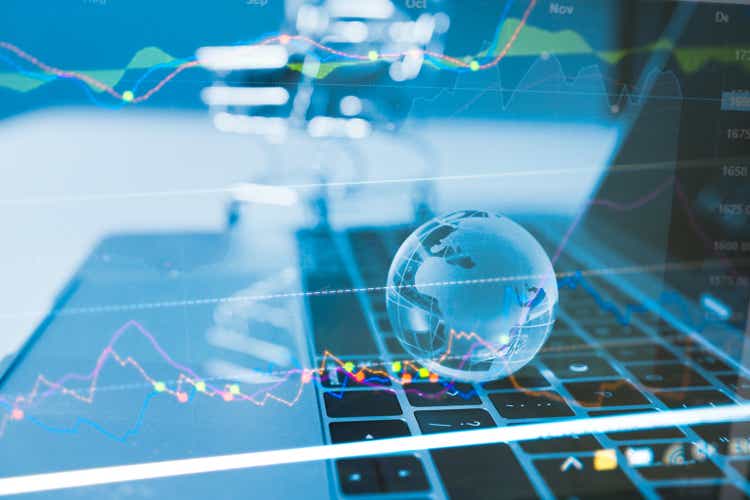 (This article was co-produced with Hoya Capital Real Estate.)
In November 2022, I published an article right here on Seeking Alpha, entitled "We're In The 5th Inning – That's Why I Hold 25% Cash." In the article, I briefly discussed 5 factors which I believed would cause the market, at the very least, to briefly revisit the lows put in earlier in 2022. While this has not yet happened, I continue to believe it is a real possibility.
As a result, I have actually increased my cash allocation, to roughly 33% of my portfolio. As an interesting reference point, using my personal Fidelity statement, I calculated the rate of return on my money market accounts, as well as my overall bond holdings, for April. These paid a dividend of 4.40% while my bond holdings, the majority of which are in iShares Core U.S. Aggregate Bond ETF (AGG), paid an overall dividend of 2.91%.
In addition to the factors I mentioned in the article linked above, that return on cash continues to serve as a headwind to stocks, as a rational investor would demand higher potential returns in return for the additional risk assumed.
In my case, as a recent retiree, I need to pay as much attention to capital preservation as I do to the potential for additional gains. And that is taking on ever greater importance to me as the current battle over the debt ceiling draws ever closer to a potential point of no return.
Maintaining Diversified Equity Holdings
Of course, that doesn't mean that one should forgo equities, not at all. But it remains my belief that prudent diversification is as important now as it has ever been.
Recently, Vanguard provided a March 31, 2023 update to its asset class return outlooks for the next 10 years. In the graphic below, I reproduce the portion of that chart related to equities.
For purposes of this article, please focus on the last 3 rows in the above chart; Global ex-U.S. developed markets equities (unhedged). As you are likely aware, the broader global equities asset class includes both developed and emerging markets.
In general, a country is considered developed if it has a highly-developed capital market, competent and serious regulatory agencies, and high levels of per-capita income. Countries such as Japan, France, Germany, and Australia, to name just a few, are considered to be developed markets.
Emerging economies, on the other hand, tend to be characterized by higher levels of economic, political, or social instability, lower per-capita income, and still-developing infrastructure. Countries such as India, South Africa, Brazil, and Mexico, to name just a few, are considered to be emerging markets.
With that, take one more look at those last 3 rows. Vanguard starts with the overall outlook for global equities but then breaks out those two sub-classes. Where do you see the best risk/reward probabilities? Likely, you focused in on the row representing developed foreign markets. While Vanguard posits that emerging markets may also outperform the U.S. over the next 10 years, the median volatility is higher.
As a result, a reasonable investor might decide to focus on that asset class; developed foreign markets. What vehicle might you use to do so?
Vanguard VEA – A Winning Choice
The answer to that question leads us nicely to today's featured ETF: Vanguard FTSE Developed Markets ETF (NYSEARCA:VEA). Simply put, for an investor interested in either opening, or adding to, an allocation to developed-market foreign equities, VEA is a winning choice. With an inception date of 07/20/2007 and assets under management ("AUM") of $112.1 billion, VEA has the most solid of track records. As with many of its ETFs, over the years Vanguard has lowered the expense ratio it charges for VEA all the way down to .05%. Finally, the fund carries a trading spread of .02%, extremely low for a fund trading in foreign securities.
In terms of the overall forecast, developed foreign markets face very similar challenges to what we face here in the United States. In the European Union, as well as the United Kingdom, inflation is still a problem. In both cases, central banks are expected to continue to raise rates over the remaining months of 2023. In the case of the UK, Vanguard forecasts increased risk of a recession that lingers into 2024.
Why, then, does Vanguard project outperformance for this asset class moving forward? Take a look with me at the following graphic, which I pieced together from the Morningstar reports on VEA and its U.S. equivalent, Vanguard Total Stock Market Index Fund (VTI).
I'm sure you see it right away. It has to do with the starting point, current valuation. As you look at the various comparative ratios, you see that developed market equities, as represented in VEA, are not nearly as 'expensive' as their U.S. counterparts at this moment in time. At the same time, looking down to the bottom section of both tables, one sees that the growth outlook is quite comparable between the two.
Just a couple of last items to consider before we wrap up this section. Captured from the Vanguard Advisors website, here are the Top-10 countries represented in VEA.
You might notice that the single heaviest-weighted country is Japan. Over the past few years, this has actually proved to be a slight drag on performance for the fund.
However, it appears things may be changing on that front. According to a recent article on CNBC, the Tokyo Price Index, also known as Topix, has gained more than 6% year-to-date. Might that continue? Consider the following excerpt from that article.
"Foreign investors are back – which says something about the nature of the equity market recovery in Japan," Societe Generale's Asia equity strategists Frank Benzimra and Tsutomu Saito said in a Tuesday note.

"That is a less [of] a duration trade than a broad-based upturn based on fundamentals, robust domestic demand, and more generous distribution policy (share buybacks accelerate)," he wrote.
Lastly, please note that the underlying index for VEA includes South Korea as a developed market, as opposed to several competitors that classify South Korea as an emerging market. That means that Samsung Electronics (OTCPK:SSNLF), one of the world's foremost electronic manufacturers, is included in VEA, in fact becoming its 4th-largest holding.
Summary And Conclusion
In terms of my overall view, I am staying quite conservative at the present time. In fact, my personal portfolio is almost equally allocated between cash, bonds, and stocks.
However, because I believe in diversification, the stock portion of my allocation is currently comprised of 60% U.S. stocks and 40% international stocks. I personally do not hold VEA, but this is simply because I have decided to include emerging markets as well, and so currently hold iShares Core MSCI Total International Stock ETF (IXUS) as well as Vanguard FTSE All-World ex-US Index Fund (VEU).
However, if you decide that you feel more comfortable sticking to developed international markets in terms of your portfolio, I submit that VEA is deserving of your consideration. As my title suggests, this might just be the sweetest spot in equities.