TPG: Short-Term Price Risk, Attractive Long-Term Business Fundamentals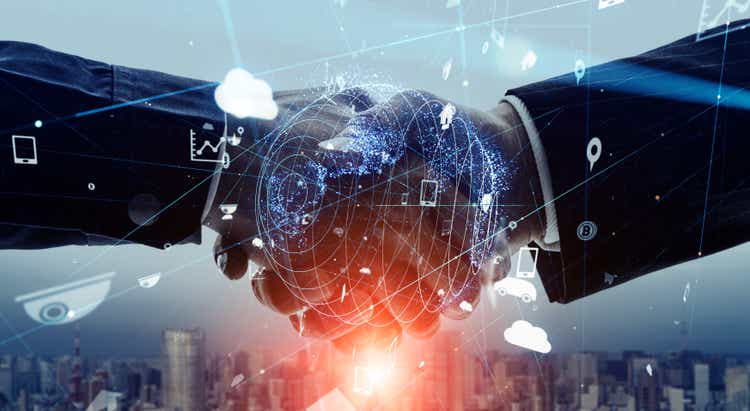 Investment Thesis
After falling ~30% from its IPO highs in January 2022, TPG represents an opportunity for investors to invest in a highly scalable and growing global alternative asset manager at a discount to a conservatively estimated intrinsic value. With a history of consistently growing AUM, revenues, and earnings, I believe TPG, Inc. (NASDAQ:TPG) represents a rare opportunity to purchase a great company with a long runway at an attractive price. However, investors should be aware that there is a short-term price risk, as insiders own a large chunk of the company and the lock-up period is expiring soon (July 13, 2022); insiders may or may not sell, but certain investors may want to wait and see before investing.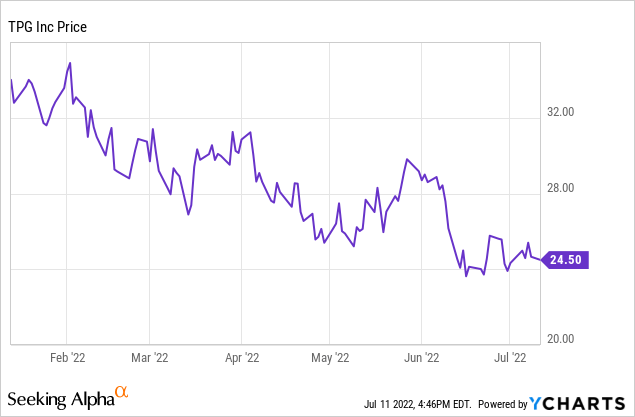 Business Background
Founded in 1992, TPG, Inc. is a global alternative asset manager with ~$120B in assets under management (or AUM) that recently came public on January 13, 2022. Similar to Blackstone (BX), KKR (KKR), Carlyle (CG), and Brookfield (BAM), TPG invests in assets outside of conventional assets such as stocks and bonds (examples include private equity, venture capital, hedge funds, real estate, infrastructure, credit / debt).
TPG's main business is to raise, invest and manage investments spanning 5 categories:
Capital ($57B): focus on large-scale, control-oriented private equity

Growth ($22B): focus on rapidly growing businesses

Impact ($14B): focus on impact investing and pursuing societal benefits and financial returns

Real Estate ($18B): focus on real estate investing

Market Solutions ($10B): focus on market opportunities (public/private markets, capital markets, SPACs)
AUM and fee-related earnings (FRE) has steadily increased in the last 5 years ($67B in AUM in 2017) and its various funds have generated between 22% to 31% gross IRR (~15% to 21% net IRR).
Similar to most alternative asset managers, TPG's business is firing on all cylinders. In addition, it has demonstrated its ability to opportunistically raise capital globally and achieve above-average returns.
Before moving on to valuation, I just want to touch upon how great the asset management business model is (when done properly):
Scalable: the company is able to increase revenues without a commensurate increase in capital expenditures or fixed costs

High-Margins: TPG's FRE margins are ~37%

Asset-Light: similar to Blackstone, TPG runs the business with an "asset-light" approach, which allows it to pay out the majority of its earnings to shareholders

Sticky Earnings: capital is often locked up for a few years, which makes the earnings stream fairly predictable or "sticky"
Valuation
With 309M shares outstanding (~79M Class A and ~230M Class B) and a current price of $24.54, the current market cap is ~$7.6B.
So how do we go about valuing TPG? Similar to my valuations on KKR, Apollo, and Patria, one can think of TPG (or any asset manager) as two segments:
The income stream (management + incentive fees)

The balance sheet (cash & investments net of debt). In other words, the book value.
The recurring management fees come from managing the pools of money and the variable incentive fees come from being profitable (over some hurdle). Think of it as the typical "2 and 20".
The balance sheet is simply the cash and investments that TPG has on its balance sheet minus the debt.
Using a sum-of-the-parts (SOTP) approach, we can apply certain multiples to the income streams and balance sheet to estimate TPG's intrinsic value.
Management Fee Stream: FRE for 2021 was $326M (see slide above). Applying a 20-25x multiple (which I would argue is fair multiple for a sticky earnings stream), we get between $6.5B-$8B in value for the management fee. Already we see that the market is only valuing the management fee stream and entirely ignoring the incentive fees, book value, and any growth in AUM.
Incentive Fee Stream/Carried Interest: like most asset managers, the performance related earnings (or PRE) is pretty lumpy, but TPG states that they have YTD net accrued performance allocation of ~$796M. To be honest, I'm not entirely sure how to value this stream given the lack of historical financials, so I'll just mark it at a draconian zero (even though we know it's worth something). Consider it a free call option.

Book Value: taking book value at face value, we get ~$2B of value (note that the assets contain the $796M in accrued performance allocations)
So in total, we get:
Intrinsic Value: Management Fee + Incentive Fee + Book Value = ($6.5B-$8B) + $0 + $2B = ~$8.5 – $10B (or ~$27.50 – $32.36 per share)

Price / Intrinsic Value: ~76-89%
In short, we get that TPG is trading between 76-89% of intrinsic value and we get all the future growth in AUM / FRE for free. On top of everything, the current dividend yield is ~7%, so investors are paid to wait as the business continues to grow and scale.
Insider Ownership + Buying
A good chunk of TPG is held by insiders, who own:
13.1% of Class A shares

100% of Class B shares (10 votes per share but no economic rights)

As a result, insiders essentially own ~77% of total shares outstanding (or 97.4% of total voting power)
There have been no insider transactions as of now, but that's because of the IPO lock-up period, which I believe represents a short-term risk to the share price if insiders decide to sell. Since TPG completed its IPO on January 13, 2022 and insiders are subject to a 180-day lock-up period, the lock-up expires on July 13, 2022 (more about this under Risks).
Catalysts
Continued Execution: TPG continues to execute and scale on its strategies, which leads to higher FRE and distributions

Increased Demand for Alternative Assets: according to a survey of alternative asset investors, "at least 77% of investors say they plan to maintain or increase their capital commitments over the next year while at least 81% say they plan to maintain or raise their allocations"
Risks
IPO Lock-Up: briefly mentioned in the Insiders section, the lock-up period expires on July 13, 2022. In addition, there are further staggered clauses that allow Pre-IPO investors to sell up to x% of their shares every 6 months following the IPO date (e.g. investors can sell up to 75% of stock between the 18th and 24th month anniversary of the IPO). In any case, investors may want to wait and see what insiders do with their shares before investing, as large insider selling may depress the share price in the near-term. However, in the long-term, I do not believe the underlying business will be impacted.
Takeaway
If done right, asset management is a fantastic business as the underlying business is scalable and earns a high-margin (and sticky) earnings fee. TPG has demonstrated its resiliency and ability to make money by being in business for 30 years. Like other well-known alternative asset managers, TPG stands to benefit from the increased demand for alternative assets (a trend that I believe has a long runway) and its strategies are beginning to scale.
However, there is a short-term price risk, as insiders own a large chunk of the company and the lock-up period is expiring soon. Insiders may or may not sell, but certain investors may want to wait and see before investing. I personally don't believe the underlying business will be impacted, so at the current price, TPG represents a good opportunity to invest in a growing business at ~76-89% of a conservatively estimated intrinsic value. In other words, investors are paying for just the management fee, while getting the incentive fee, book value, and future AUM growth for free.
Based on the analysis above, I recommend taking a long position in TPG (or holding to see what insiders do).