Tipster says Galaxy S23 FE will arrive as soon as next month due to weak Galaxy S23 sales
Twitter tipster Revegnus says that sales of the Galaxy S23 series have sharply declined in May. In order to give the line a shot in the arm, Revegnus says that Samsung will release the Galaxy S23 FE before it introduces and releases the new Galaxy Z Fold 5 and Galaxy Z Flip 5.
Samsung
is expected to report Q2 sales of the Galaxy S23 flagship series that are 20% lower than the sales generated by the Galaxy S22 line during the same quarter a year earlier. The decline comes from a drop in general consumer demand.
With the Galaxy Z Fold 5 and Galaxy Z Flip 5 both expected to be introduced in July and released in August, the Galaxy S23 Fan Edition could be released as soon as next month. The device is now expected to be powered by an Exynos 2200 SoC with a 50MP image sensor backing the rear primary camera. The handset could be equipped with 6GB or 8GB of RAM combined with 128GB or 256GB of storage. A 4500mAh battery will keep the lights on.
Previous rumors called for the Samsung Galaxy S23 FE to be released after Sammy's new foldables but if Revegnus is right, Samsung is counting on the Galaxy S23 FE to jump-start the complete Galaxy S23 line. Back in March, reliable tipster Roland Quandt said, "Sure doesn't look like there'll be an S23 FE this year." But now the rumor mill has something different to say.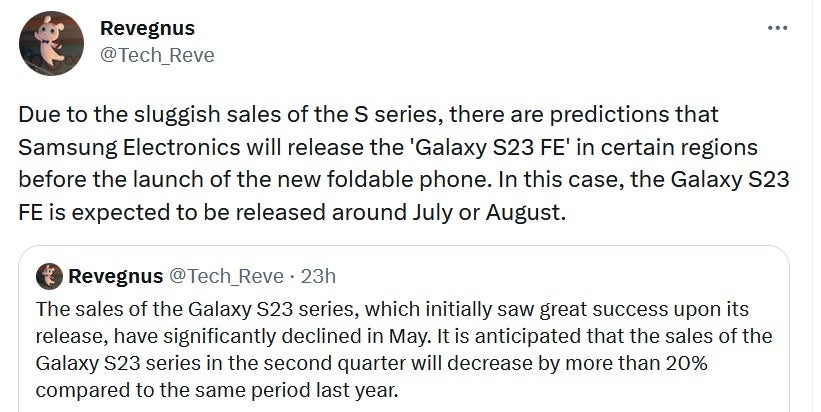 Tipster Revegnus says that the Galaxy S23 FE could be here as soon as next month
The latest Samsung FE release was the Galaxy S21 FE which featured a 6.4-inch display and carried a Snapdragon 888 chipset under the hood. Samsung did not release a Galaxy S22 FE model.
In case you were wondering, Samsung says, "FE stands for 'Fan Edition'. Simply put, when you speak, we listen. For each generation of the flagship Galaxy S series, we take on your feedback and produce a device packed with all of your favorite features. With June one week away, we will keep our eyes peeled and our ears close to the ground. If you're interested in the Galaxy S23 FE check back here often. If we hear anything new about the Galaxy S23 FE in the days ahead, we will update this story or write a brand-new one.