Northwestern Corporation: Keep An Eye On Capex Needs (NWE)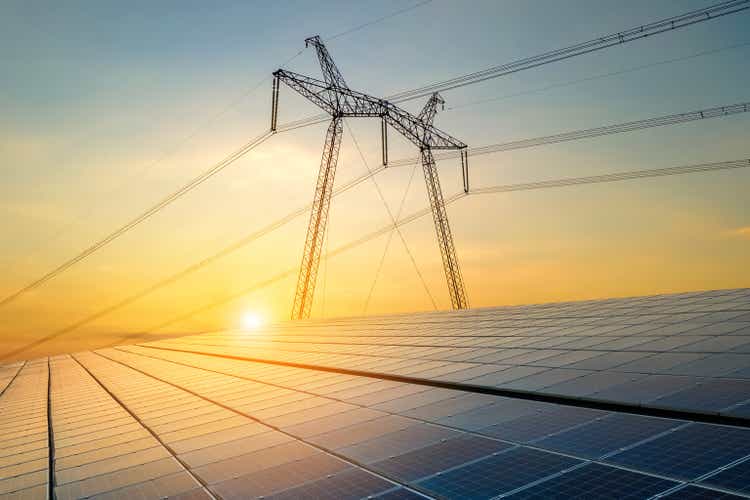 It has been more than a year since I updated my view on the utility NorthWestern Corporation (NASDAQ:NWE), and it's time to check in again on the original investment thesis. First quarter 2023 results were released at the end of April, and management began to give hints on what they see over the next 6 to 18 months. In April of last year, my conclusion on NorthWestern was summed up this way:
Even assuming that debt will very likely go up in the coming years, NorthWestern will not rely exclusively on the bond market to fund its growth needs. I think the greater risk is that NorthWestern has underestimated the investment amount needed to reach its goals, especially in this moment of rather staggering inflation. Management has already demonstrated they are willing to pull back on projects that get too expensive, but if every project starts pushing significantly over cost, then something will have to give. However, for the moment, given the combination of attractive valuation, good debt coverage, and a reasonably covered dividend that yields better than several peers, I like NorthWestern as part of a conservative defensive selection in an income-focused portfolio.
I think it is fair to describe that as a reasonably accurate picture of how things have played out since then, with a basically break-even total return versus an S&P 500 index total return that is slightly negative.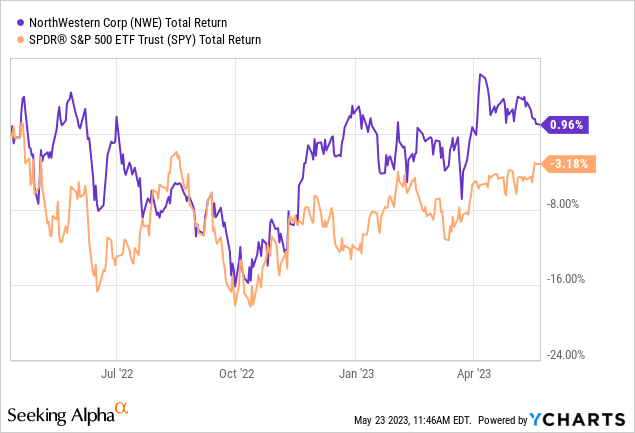 While a few things have naturally changed in the last twelve months, with a mixed bag of results, but overall I think the same conclusion holds.
A Quick Look Back
For full year 2022, NorthWestern generated earnings per share of $3.25, on total revenue of $1.48 billion. Net income was $183.0 million, down just slightly from 2021's results at $186.8, and at least partly attributable to higher interest expense of $100.1 million, up $6.4 million from 2021. The overall debt profile is definitely part of the story here, and seeing that interest expense creep higher is certainly to be expected. Cash flow from operations was $307.2 million for the year, not enough to cover $515.1 million in capex investment and $140.0 million in dividends. The uncovered balance was raised from a mix of debt and equity, with stock issuance of $277.0 million and borrowing on credit lines of $77 million. Total unrestricted cash ended 2022 at $8.5 million, with another $14.0 million in restricted cash. On the liability side of the balance sheet, the current portion of debt did go from nothing to $144 at year-end 2022, while long-term debt decreased slightly from $2.54 billion to $2.47 billion.
Turning briefly to Q1 of 2023, the EPS of $1.05 on revenue of $454.5 million. Cash flow from operations was strong, $213.7 million, more than covering the cash needed for investments of $136.6 million and dividends of $38 million. Northwestern ended Q1 with $10.7 million in unrestricted cash, another $16.4 million in restricted cash, and raised $220 million in long-term debt while paying down $253 million on its credit lines. All in all, it was a respectable quarter and sets the stage well for the balance of 2023.
The Pros & Cons In The Outlook
Although management is providing full official guidance for 2023, it is well known Northwestern plans on making plenty of capex investment for getting enough capacity in place to reduce reliance on buying the shortfall needed to serve its markets, and this will run at least $2.4 billion in total over the next five years. The guidance for 2023 capex specifically is about $510 million, with $150 already allocated in Q1 (though only $136 million of cash was used). Internally generated cash will help cover some of this, but ongoing borrowing and some equity raising will still be required. Of course, debt financing is now more expensive, and the existing debt load is not small. One project is a $275 million investment for a 175 megawatt natural gas powered generating station located in Yellowstone County, Montana, hopefully operational by some point in 2024. A smaller 58 megawatt unit was built in South Dakota over the last few years, and went online in May 2022. Additional maintenance and expansion capex is constantly ongoing, of course.
Helping offset the upfront cash required to build out greater capacity is the acquisition of coal generating power from Avista Corporation (AVA), a Washington and Oregon utility. Northwestern has previously shared the full generation capability of the units at a plant in Colstrip, Montana, but Avista is moving away from coal, with a target of 2025. In the terms of the deal, NorthWestern is paying nothing upfront, and will not assume full operating costs on the plant until 2026. The agreement is expected to keep the plant operational until at least 2030, and puts Northwestern's share of the output at 444 megawatts by January 2026.
Further, helping to offset some of the discomfort around the capex costs is the pending outcome of rate reviews in areas serviced, with a proposed settlement on rates in Montana. Due to the impact of this review on the company's financial condition, management is not yet providing guidance for 2023; however, if the requested rates were to be approved by the state's utility commission, the result would impute an additional ~$81 million in annual baseline revenue between gas and electricity. A final decision is not expected until this summer, July or August. An additional rate review process is expected to be initiated in South Dakota for electricity, which will take many months to play out once it is filed.
Valuation
To a large degree, assessing the valuation will depend on the outcome of the rate case in Montana, although other factors will certainly come into play. Assuming for now that the Montana rate settlement is approved as submitted and Northwestern is able to tack on an additional ~$80 million per year in revenue for 2024 versus 2022, then topline figures would start out at about $1.56 billion per year, although that inches higher on a TTM basis, up to $1.62 billion. Given the customer growth rates of 1.4% noted by management in the earnings call, I believe using $1.60 billion as a revenue baseline is a fair to conservative estimate.
Working backwards from that to estimate EBITDA, some quick math on the historic results show an average EBITDA margin of about 32.8% from 2020 through 2022, so on $1.60 billion in assumed revenue, EBITDA would be $524.7 million. Based on the current enterprise value of just over $6.0 billion, that works out to an EV / estimated EBITDA of 11.5x, realizing that the EV will move around some due to the expected $75 million of new equity set to be raised in the back half of 2023 and future debt yet to be taken on.

Looking at Northwestern in comparison to some sector peers, it has positioned itself for the moment with both a healthy balance sheet in terms of debt to equity, while offering a value on the basis of EV / EBITDA that is in line for the industry. The expectation is that the debt will have to rise, but in combination with additional equity, so I do not believe Northwestern will become over-leveraged in the near term. From a market perspective, Northwestern appears to be fairly valued.
On the equity side, the company's CFO, Crystal Lail, would not directly answer an analyst question on the quarterly call about the need for additional equity funding after 2023, but saying instead:
The thing I would just note overall there is we're looking to fund our capital plans on a self-funded basis absent when we have additional growth, things like Yellowstone or other opportunities that aren't based into our current capital plan. Those are the types of things that would push us into more equity needs. (emphasis added)
To me, this is the single biggest risk factor. While the leadership has been very clear on that they anticipate the necessary investment to be for the future, the possibility of underestimating the investment necessary is substantial. Of course, no investor should take the capital allocation plans talking about years into the future as unchangeable, but consider the "free" Colstrip facilities. If Northwestern really plans to run them to about the year and then take them offline, then preparations to replace the 444 megawatts plus additional capacity to account for growing need to start now (and perhaps the Yellowstone capacity is part of that planning already). However, my point is that if it costs $275 million and takes three years or more to build the Yellowstone facility that will provide 175 megawatts, the investment needed to build new capacity for ~450 megawatts to replace Colstrip when the time comes will be immense, and with coal-powered assets, there is the possibility that their residual value and ability to find another buyer could be minimal. The need for more debt and equity funding is almost a certainty, which could combine to keep a lid on both the capability to create shareholder value, or to fund a growing dividend.
Conclusion
In spite of what I just laid out in terms of my concerns, one benefit of being a utility is a reasonable expectation that the company can recoup some investment, although it is a highly regulated process with the rate reviews. So while the company may well be staring down $600 million or more in today's dollars to replace the Colstrip capacity, for example, just like its other investments, the need should be able to be met by a healthy mix of internal cash generation, debt and equity. So long as management is prudent, and generally speaking, I find them to be straightforward, then I think there can a role for owning shares in NorthWestern, but in a conservative, income-focused portion of a portfolio.