Lock Up These Two +8% Yields And Never Let Go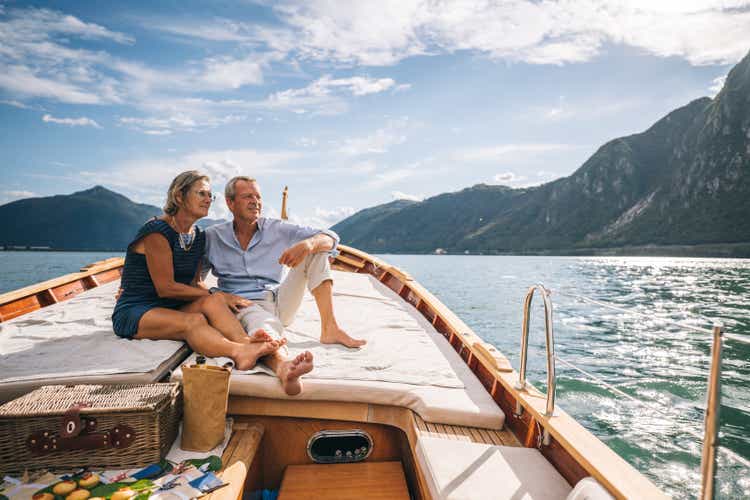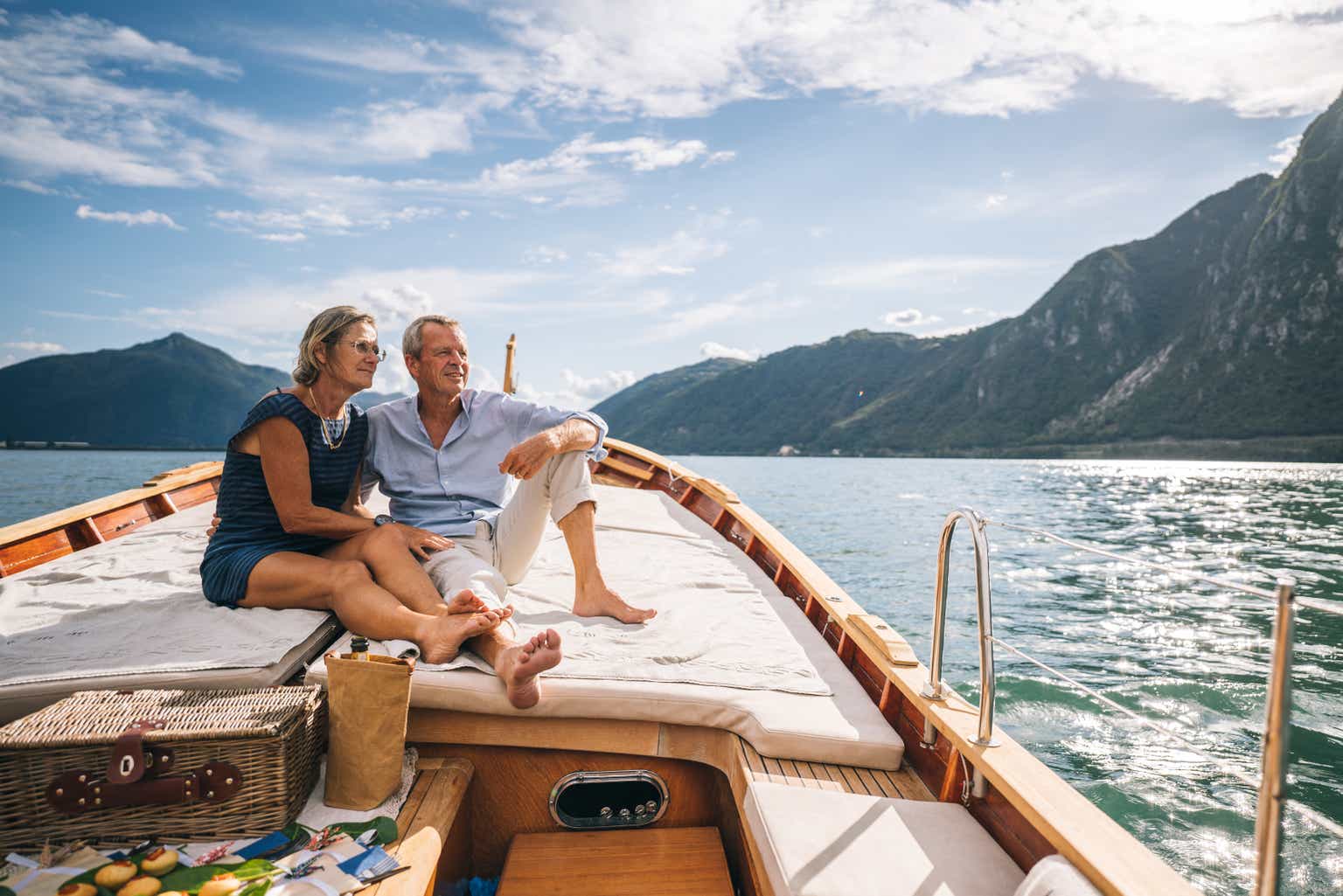 Co-produced with Treading Softly.
I enjoy discovering and securing unique value. In essence, capturing that value and benefitting from it for the long haul.
At times, that means buying in bulk and enjoying it over a long period of time, knowing that it enabled me to save money vs. buying in small portions. Another means is by buying high-quality leather boots, which I can resole when needed and will continue to wear for decades to come – they're heritage quality.
While locking in value may require more money upfront, it results in a better return on my investment in the long run.
When it comes to investing, I often find myself aligning with value investors who are also looking for value from mispricing or misunderstanding, which abound in the market.
Today, I want to offer you two excellent value propositions that are currently available in the market. These are picks you'll want to buy today and lock up the value for years to come.
Let's dive in!
Pick #1: SACH-A – Yield 9.6%
Sachem Capital Corp. (SACH) is a niche mortgage real estate investment trust ("MREIT") that focuses on residential projects. Originally SACH was zeroed in on fix-and-flip loans to smaller clients. As SACH has grown in size and lending capabilities, they have also grown their clientele to larger developers. Source.
As SACH has grown, they have diversified their portfolio's loan type and location, expanding outside of its humble beginnings in Connecticut to gain exposure to rapidly growing states like Florida.
Yet, as we look forward to an economic slowdown, investors are justifiably concerned about SACH's continued ability to pay out a generous dividend and continue to have a stable portfolio of loans.
SACH has taken various steps to address these concerns. First and foremost, SACH has been exceptionally strict on its lending practices. While peers like Broadmark Realty Capital Inc. (BRMK) were easing lending rules to attract more business, SACH was willing to see incoming business slow to maintain their portfolio's integrity.
Secondarily, SACH completed an all-stock buyout of Urbane, which is now under the SACH umbrella. Urbane is a construction company, and real estate company focused on development and construction, including architecture, design, contracting, and marketing. This allows SACH to take failing projects and buy them outright, providing lending and completion to maximize profits while other companies fail – or be bought out, as we've seen occur with BRMK.
So while uncertainty is on the horizon, we especially like their preferred security as a middle ground between the risk of the common and the low potential returns of their baby bonds. This places Sachem Capital 7.75% Series A Cumulative Redeemable Perpetual Preferred Stock (SACH.PA) in a prime position to offer strong income and potential returns due to its current discount to PAR.
SACH has covered their preferred dividends strongly with a 5.29x coverage of Net Income vs. preferred dividends during the first 9 months of 2022; we expect when earnings come out later this month, SACH-A will continue to see strong coverage.
SACH's management team continues to be conservative and effective, not so conservative that they fail to find traction – like BRMK's team seemed to be – but also not so trigger-happy that they are careening their company towards disaster.
This makes being a preferred holder extremely attractive. We'll collect a large dividend at a high yield while the common shareholders experience the highest level of volatility.
Pick #2: RVT – Yield 8.8%
Royce Value Trust (RVT) has an incredible history: it has beaten its index, the Russell 2000, for over 36 years: Source.
It is an impressive achievement for a fund to still be around after 36 years – let alone 36 years where it has beaten the index more often than not.
RVT specializes in small-cap investments, searching for undervalued investments. Founder Chuck Royce explains:
"Our task is to scour the large and diverse universe of small-cap companies for businesses that look mispriced and underappreciated, with the caveat being that they must also have a discernible margin of safety. We are looking for stocks trading at a discount to our estimate of their worth as businesses."
I previously explained in a Market Outlook that the large and mega-cap stocks are trading above pre-COVID valuations based on price/earnings, while small and mid-cap stocks are trading at lower valuations. RVT's holdings were trading at an average price/earnings of 14.1x as of the end of 2022.
Since bottoming in October, the difference between RVT's NAV and market price has grown.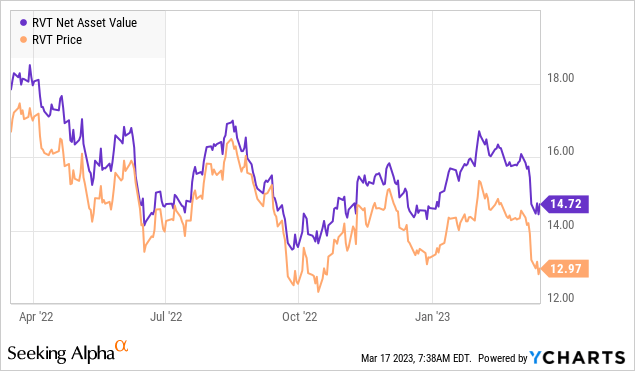 RVT is trading at a 12%+ discount to NAV – the largest discount in the past 52 weeks.
RVT's NAV is important for predicting its distribution. RVT has a unique distribution policy incorporating the rolling average of quarter-end NAV for the past four quarters. This policy creates a variable distribution, ensuring that the CEF is never paying out too much of its capital while also providing assurance that investors will benefit upon recovery.
High Dividend Opportunities members enjoy a unique forecasting tool that provides an outlook on future distributions. We can rest assured that as NAV recovers, those benefits will be passed along to us through dividends without having to rely on management to make the decision.
The small-cap stocks that RVT invests in are attractively priced, and RVT itself is trading at an attractive discount.
Conclusion
SACH-A and RVT both offer investors distinct value propositions. SACH-A provides a route to enjoy high levels of income from a company being managed very prudently in a timeframe where headwinds are increasing in that sector. The strong preferred dividend coverage bodes well for SACH-A holders to enjoy income as the common faces additional volatility. RVT offers index beating returns for decades as a means to show management's proven track record of success in providing returns to its shareholders as well as a variable level of income which ensure RVT is not overpaying its dividend.
Both are attractive income investments in their own right and are part of the 'High Dividend Opportunities' model portfolio, which currently carries an overall yield of +9%. We hold them as part of our retirement portfolio. Together, both of the dividend stocks can help propel your overall income to new heights, something we can all benefit from as we experience higher levels of inflation and interest rates hitting our wallets.
Retirement should be a time of relaxation and enjoyment. While enjoying your hobbies, don't forget to take a few moments to lock in value like we've looked at today and not let it go! It can travel with you providing high-quality income for years to come.
That's the beauty of income investing. That's the reward offered by our Income Method.