iPhone 15 vs iPhone 13 mini: is it time to drop the mini?
Intro
The iPhone 13 mini was Apple's second attempt at the small, powerful phone form factor and — for all intends and purposes — it was a good one. The truth is, however, that a smaller size does have its limitations, and even though there definitely are people who prefer a smaller phone out there, the numbers point at something like the upcoming iPhone 15 being a more successful product.
A larger phone means more screen real estate, longer battery life, and in general more room for better hardware. One really good example would be the much larger main camera sensor that is rumored to come with the iPhone 15, which is a little hard to imagine being fit inside a smaller body like that of the iPhone 13 mini.
So, is it worth ditching the compactness of Apple's last (for now) mini for all of the upgrades the iPhone 15 is expected to have? Well, frankly that is a very subjective matter, but let's take a look at how these phones might compare to each other judging by what we have experienced with the iPhone 13 min and what we know from leaks about the iPhone 15.
iPhone 15 vs iPhone 13 mini expectations:

A16 Bionic chip
6GB of faster RAM
Brighter screen
Dynamic Island replaces the notch
Same storage options
48MP main camera
Better battery life
Same charging speeds
USB-C
Table of Contents:
Design and Size
Slightly different look, besides the obvious size difference
Let's get the size difference out of the way straight from the beginning. The iPhone 13 measures in 5.18 x 2.53 x 0.30 inches while the iPhone 15 is said to be somewhere close to the size of the iPhone 14, which is 5.78 x 2.81 x 0.31 inches. The weight, of course, is also different between the two: 4.97 oz vs 6.07 oz.
Alright, now that the obvious is out of the way, let's talk about the not so obvious (kind of). Since the iPhone 15 is said to be the first one outside of Apple's Pro models to ditch the notch and replace it with the Dynamic Island, it goes without saying that is one of the more striking design changes.
The other much less noticeable characteristic that is rumored to come with the 2023 base iPhone is a USB-C charging port, which is different than the Lightning port found on the iPhone 13 mini. This has been a much awaited and anticipated change, and one that
Apple
has long been criticized for not making earlier.
Colors-wise, we don't know what to expect from the iPhone 15 yet. What we are more sure of, though, is that it will be made out of the same materials and come with the same level of water/dust protection as the iPhone 13 mini, i.e. IP68.
Display Differences
Nothing you wouldn't expect
It is amazing how big of a screen you can fit in a phone as tiny as the iPhone 13 mini, but no matter how much you shrink those bezels you still won't get a display as large as the one we expect to see on the iPhone 15.
If we are talking anything else but the size, however, the differences come to a halt. If what the rumors and leaks so far are true, all the other display specs are mostly the same. In other words, a 60Hz max screen refresh rate, similar resolution, and peak brightness of 1200 nits.
And yes, if you want a smoother display with higher refresh rate you would probably still have to upgrade to the Pro models.
Performance and Software
Better graphics performance and more RAM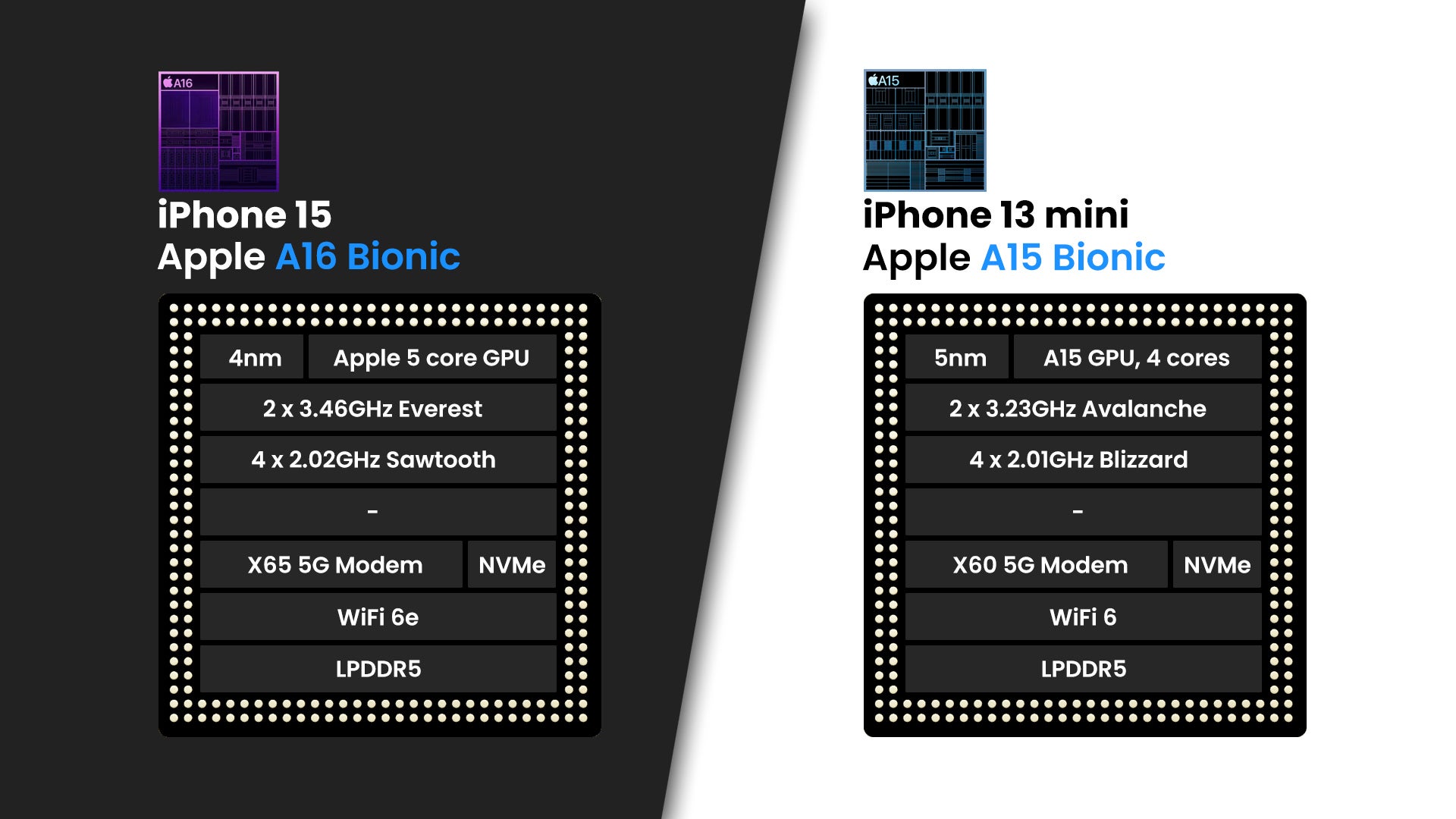 The iPhone 13 mini is simply amazing when you think of what the A15 Bionic chipset can do inside a body that small. The iPhone 15, on the other hand, will likely come with the A16 Bionic, which is also featured on the iPhone 14 Pro and Pro Max.
Now, the A16 is not an upgrade that would deliver drastically different results, at least that is what we found out during our own testing. But it does come with 24-28% better graphics power, which should come in handy when mobile gaming or using applications that need the extra horse power.
The memory is also supposed to be the faster LPPDR5 type, and it should also be 6GB, unlike the 13 mini's 4GB. This only means apps and features should load faster and the phone should be able to handle more simultaneously.
Some other upgrades that should logically arrive with the iPhone 15 as they were also features on the Pro models from last year are support for Bluetooth 5.3 and a more efficient 5G modem that would decrease its power consumption.
The software experience should be about the same, with the one difference being all the functionality revolving around the Dynamic Island. That, as well as the fact that the iPhone 15 would be two years newer, meaning it would probably continue getting software updates for two years further into the future, making it a better future-proofed option.
Camera
Truly a step up
Like mentioned earlier, the iPhone 15 is supposed to come with a much better main camera which should rock the same 48MP main sensor that debuted with the iPhone 14 Pro and Pro max last year. This should without a doubt result in much better image quality both in regular conditions and situations where you find yourself in a place with low light, especially when you take into account the Photonic Engine that helps improve low-light photography even more.
The iPhone 15 should also come with a new selfie shooter featuring an aperture of ƒ/1.9, optical image stabilization, and autofocusing. You can also expect new camera features like 4K Cinematic mode at 30fps and Action Mode with video stabilization. The 12MP ultra-wide is expected to remain the same though.
Audio Quality and Haptics
Apple's iPhones tend to have great audio quality all throughout each lineup that's been launched during the years. That being said, because of its smaller body, the iPhone 13 mini probably won't be as good-sounding when placed next to the upcoming iPhone 15. A larger phone allows for bigger speakers, hence better and louder sound.
Haptics, however, should be equally good between the two phones. Apple is not said to be bringing any improvements on that front, at least based on what has come out so far in terms of leaks. The Taptic Engine is arguably best in class, though, so it is hard to be mad at the lack of change here.
Battery Life and Charging
Size matters
The iPhone 12 mini was a quite little phone with lots of power for its size, but it had one major flaw and that was its battery life which was barely manageable. Apple corrected that mistake with the iPhone 13 mini making it at least last throughout a regular day of use.
Whatever the case, however, it is highly unlikely the iPhone 13 mini would even come close to how long the iPhone 15's battery would last. The reason is mainly due to the phone's size, and therefore the size of the battery that can be fit inside.
The iPhone 13 mini comes with a 2,406 mAh while the iPhone 15 is expected to get a 3,279 mAh one. Also, the A16 Bionic that's expected to be the iPhone 15's chipset should be more power efficient compared to the A15 of the iPhone 13 mini.
Then there is the charging which despite the brand new USB-C that the iPhone 15 is expected to come with, should remain the same in terms of speeds. The rumors say that Apple might refrain from giving the regular models of this year's generation any upgrades in this regard. Same goes for the MagSafe wireless charging, which remains at a maximum of 15W.
Specs Comparison
Here's an overall look at the differences and similarities between the iPhone 15 and iPhone 13 mini:
iPhone 15
iPhone 13 mini
Size, weight
unknown
5.18 x 2.53 x 0.30 inches (131.5 x 64.2 x 7.65 mm)
4.97 oz (141.0 g)
Screen
6.1″ OLED
60Hz
5.4″ OLED, 60Hz, 1200 nits peak brightness
Processor
A16 Bionic
4nm
A15 Bionic
5nm
RAM, Storage
6/128GB
6/256GB
6/512GB
–

LPDDR5*

4/128GB
4/256GB
4/512GB
–

LPDDR4X

Cameras
48MP main
12MP ultra
–

12MP front

12MP main
12MP ultra
–

12MP front

Battery
3,279 mAh*
2,406 mAh
Charging
USB-C
20W wired
15W MagSafe
Lightning connector
20W wired
15W MagSafe
Summary and Final Verdict
This is a tough one. After all, we are talking about a significant difference in size here, so it really depends how much value you put into that as a user. If you find it uncomfortable and inconvenient to use a larger phone every day and you want to upgrade to the iPhone 15 coming from the iPhone 13, then you will probably need some time to adjust.
Now, if we were comparing the iPhone 13 mini to something like the iPhone 15 Plus or 15 Pro Max it would be a different story, as the size difference and weight there is drastic and can be a little jarring, but in the case of the base model, the transition shouldn't be too bad.
If we leave the dimensions to one side, spec-wise, the iPhone 15 is technically superior in many ways to the smaller predecessor. You get a larger display to enjoy content on, better graphics performance, but most importantly you get a huge jump in the camera segment thanks as a consequence of those new 48MP main sensor and front-facing camera.
So, in other words, if you think you've had your fun using the mini and don't suspect a somewhat larger phone would be too much of a hassle for you, then the iPhone 15 might be a nice upgrade for you.