InMode: Potential To Double Amid Strong Growth Prospects And Favorable Market Position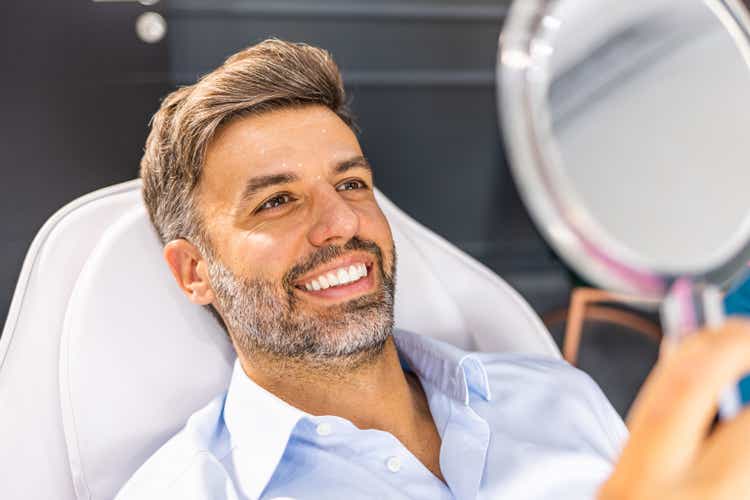 Executive Summary
InMode is a medical technology company that develops and sells innovative aesthetic and medical devices. The company has experienced impressive growth in recent years, driven by its expanding international presence and successful product launches. With a debt-free balance sheet, a strong cash position, and a track record of generating ample cash flow, the company is well-positioned for continued growth and offers significant upside potential.
Business Overview
InMode (INMD) is a renowned worldwide provider of minimally invasive surgical aesthetic and medical treatment solutions that utilize energy-based technology. The company stands out in the field of energy-based aesthetic treatments for face and body contouring, medical aesthetics, and women's wellness by using radiofrequency-based (RF) technologies, which overcome the shortcomings of traditional laser-based treatments and offer both fat reduction and skin tightening.
INMD has a unique history as a medical device maker that specializes in non-invasive body contouring products, utilizing their proprietary technology of radiofrequency-assisted lipolysis (RFAL). The company is fully integrated, handling the design, manufacturing, and global marketing of its products. Their range of products and treatment options includes outpatient procedures like liposuction, skin tightening, body and face contouring, and skin rejuvenation, among others. These procedures offer numerous benefits such as no scars, no hospital stays, and no need for general anesthesia, providing a practical alternative to plastic surgery.
What sets INMD apart is its impressive growth rate and financial performance. Between 2016 and 2021, the company's revenue surged from $23 million to $358 million (Source: InMode Form 20-F Report). Despite the typical high R&D and selling costs for early-stage medical device companies, INMD managed to generate robust free cash flow with adjusted EBIT margins of nearly 50%, while maintaining an ROIC in the +40% range.
InMode stands out for several positive attributes that contribute to its growth potential in the aesthetic products market:
Strong end markets: Before the COVID-19 pandemic, the professional aesthetic products market was projected to grow at a CAGR of over 10%, with double-digit growth in areas where INMD primarily competes, such as body shaping, skin tightening, and women's wellness. Despite pandemic-related headwinds, demand for aesthetic procedures rebounded quickly in 2020 and remained strong through the first half of 2022.
Technology leadership: INMD's minimally invasive RF-based products are particularly suitable for patients aged 35-50 who seek skin tightening as part of their body/face re-contouring. INMD uses bipolar RF energy delivery, which enables a lower-cost, higher-quality solution for a growing number of use cases. Bipolar delivery has an advantage over monopolar delivery in that depth of penetration of the RF energy is not dependent on tissue impedance or probe size. INMD has successfully met growing demand and navigated supply chain issues with ample production to meet demand within weeks.
Differentiated selling strategy: Despite generating most of its revenue from the sale of capital systems at ASPs in the $100,000+ range, INMD enjoys a strong mid-80% gross margin profile that is well above peer group averages. This margin advantage comes from lower manufacturing costs for RF versus industry-standard laser-based technologies, alongside pricing power that's on par with costlier technologies.
InMode competes with several companies in the medical aesthetic device industry. The key competitors include Cutera, Hologic, Syneron Candela, Alma Lasers, and Cynosure. These companies produce similar products that offer non-invasive and minimally invasive treatments for various cosmetic procedures, including body contouring, skin tightening, and facial rejuvenation.
InMode's competitive advantage in the marketplace lies in its technology and product offerings. InMode has developed proprietary technologies such as Radio-Frequency (RF) energy, which delivers controlled heat to the targeted area, leading to faster and more effective treatments. The company has also developed its patented 4D technology, which uses a combination of RF energy and pulsed electromagnetic fields to deliver longer-lasting results. This technology has been proven to be superior to traditional laser treatments, as it delivers better outcomes with minimal downtime.
In addition to its technology, InMode's diverse product offerings also give it a competitive advantage. The company offers a wide range of products that cater to various medical aesthetic procedures, from body contouring to facial rejuvenation. Its flagship product, the BodyTite, is a minimally invasive device that uses RF energy to tighten and contour the body. The FaceTite and NeckTite products offer similar treatments for facial and neck rejuvenation. Moreover, InMode's new product line, EmpowerRF, offers non-invasive treatment options for women's health and wellness.
Overall, InMode's superior technology and diverse product offerings enable it to stand out in a crowded market. The company's continued innovation and focus on customer satisfaction have allowed it to maintain its position as a leader in the medical aesthetic device industry.
Over the past few years, INMD has significantly increased its international revenues, surpassing its U.S. market growth metrics. This is important as it reduces the company's reliance on the U.S. market and creates opportunities for sustainable growth. Despite having 6,600 units installed in the U.S. compared to 14,000 units worldwide, the U.S. still contributes 64% of INMD's revenue, indicating the company's success in expanding its international presence. INMD operates in 78 countries, demonstrating significant potential for future growth.
In addition, INMD has successfully launched new products this year, including Empower RF, which targets women's health. The product has shown early signs of success, and the company is aiming to generate over $30 million in revenue by the end of the year, surpassing its initial projection of $20 million.
ELITONE is the only nonvaginal stimulation device covered by insurance through prescription, which has been proven effective in treating stress urinary incontinence for females. INMD's EmpowerRF with VTone attachment follows a similar treatment method to rehabilitate pelvic floor muscles and decrease bladder leaks.
Patents
InMode has a number of key patents that protect its intellectual property and provide a competitive advantage in the market. One of its most important patents is US Patent No. 9,839,208, which covers its proprietary radio-frequency (RF) technology used in many of its products. This technology is used to deliver safe and effective energy-based treatments for a variety of cosmetic and medical applications. The patent was issued in December 2017 and is set to expire in 2035 (Source: InMode Form 20-F Report).
Another important patent for InMode is US Patent No. 10,227,115, which covers its BodyTite technology. This patent protects InMode's proprietary method for combining RF energy with liposuction, allowing for simultaneous fat removal and skin tightening. The patent was issued in March 2019 and is set to expire in 2038.
In addition, InMode holds patents for its Morpheus8 and Fractora technologies, both of which use RF energy to treat various skin conditions. The Morpheus8 patent (US Patent No. 10,303,132) was issued in June 2019 and is set to expire in 2038, while the Fractora patent (US Patent No. 8,496,647) was issued in July 2013 and is set to expire in 2030.
It's worth noting that patents provide protection for a limited time period, after which competitors may be free to develop and sell similar products. The expiration dates of InMode's patents suggest that the company has a significant window of opportunity to maintain its competitive advantage and continue to innovate. However, it will be important for InMode to continue investing in research and development to stay ahead of the curve as the patents expire.
Valuation
Management has stated that the current growth algorithm will likely result in annual topline growth of $60-70 million. This is partly due to the episodic nature of capital system sales, which usually have a 3 to 5 month selling cycle. However, the company's history of exceeding stated targets and top-down industry growth estimates suggest that these projections may be too conservative. Additionally, the company has historically generated 11-13% of its total sales from its consumable and extended warranties segments, which provide recurring revenue.
Over the last 10 years, the MedTech industry's trading multiples have ranged from approximately 12x to 20x on a next-year EV/EBITDA basis. Recently, this group's trading multiples have clustered in the mid-to-high teens on an EV/EBITDA basis.
The company is projected to generate ~$250m of EBITDA this year, and ~$215m of free cash flow at the midpoint of sell-side estimates. Assuming InMode rerates to a multiple in line with its peer group (which is reasonable given the strong growth rate, high return on invested capital, and strong management team), shares would rerate to $50 – $70 per share, or offer 66% to 133% upside.
Importantly, the company currently holds no debt and has a healthy cash balance of $547m, along with generating strong cashflow, which should provide a solid margin of safety.
Conclusion
In conclusion, InMode has established itself as a leader in the minimally invasive medical aesthetics market, with a strong track record of growth and innovation. The company's focus on R&D has enabled it to introduce new products and expand its reach in key international markets, reducing dependence on the US market. InMode's intellectual property portfolio, including its key patents, provides a significant competitive advantage in the industry, which is poised for continued growth in the coming years. With a solid balance sheet and ample cash flow, the company has multiple options for creating shareholder value, including share buybacks, dividends, and strategic acquisitions. Overall, InMode's impressive growth trajectory, combined with its competitive advantages and strong financial position, make it a compelling investment opportunity for those looking to capitalize on the growing demand for minimally invasive medical aesthetics procedures.
Risks
Regulatory risks: InMode operates in a highly regulated industry, which exposes it to potential regulatory risks. Any changes in regulations or unfavorable regulatory decisions could adversely affect the company's operations and financial performance.
Competition: The medical aesthetics market is highly competitive, and InMode faces intense competition from established players as well as new entrants. The emergence of new technologies and products could erode InMode's market share and pricing power, negatively impacting its financial performance.
Supply chain risks: InMode relies on a complex supply chain to manufacture its products, and any disruptions or delays in the supply chain could adversely affect its operations and financial performance. This includes risks related to the availability and cost of raw materials, as well as risks associated with the company's reliance on third-party suppliers and manufacturers.