Florence Pugh Shaved Her Head for the 2023 Met Gala Red Carpet
Florence Pugh's "big" Met Gala look is finally here, and it's less about the dress than the hair. Or, rather, the lack thereof? As she teased to the New York Times ahead of Monday night's massive party, her newly buzzed dome—adorned with a feathered headpiece for the evening—is "big, but we like big, don't we?" She paired the accessory with a strapless white Valentino gown, featuring a deep cut-out tied at the chest with a black bow.
While her transformation was first revealed on the steps of one of New York City's most storied museums, rumors on sites like The Sun and DeuxMoi claimed that an A-List starlet had shaved her head have been swirling for a few days. But it seemed like Pugh could be out of the running—likely because just three days ago, at the re-opening of Tiffany & Co.'s New York City flagship, she was actually debuting a different new cut: bangs. Her longtime hairstylist, Peter Lux, was on glam for Pugh that night. Turns out, that was likely a wig.
During an interview on the red carpet, Pugh shared she shaved her head for the upcoming film.
"I thought, what is a better way than to release it at The Met with Pier Paolo," she added. "I've actually had it for about three weeks now."
The look is the latest of Pugh's ongoing—and now official—relationship with Valentino, led by creative director Pierpaolo Piccioli, who told the Times that Pugh's Met design was necessarily big. "Drama is what the evening is about," he said. "You have to play with the steps."
Added Pugh, "When I'm on those red carpets, there is so much pressure because you're either selling a movie or trying to make a moment. They're nerve-racking. The whole point is that you are expressing yourself with what you are wearing. Every time I step out in whatever dress, that's a version of me that I'm really proud of. So it doesn't matter if people don't necessarily like it. I don't think anything that I do has to be 100 percent loved. Things being up for debate is good. It means people are interested."
The Dune: Part Two actress and the creative director made their relationship official shortly after Pugh showed up at last summer's Valentino couture show in a see-through dress. (For better, though mostly for worse, the sheer, nipple-baring look made instant headlines.) Said Piccioli of the look, "The statement was the perfect one to embody the idea I was talking about months ago about not having canons of beauty, but being unique and different and diverse and showing yourself in a fierce way. Florence was just asking for respect about a choice, which is exactly what I'm saying when I do my collection."
Pugh told ELLE.com in early 2022, "I don't [look] the same way every single day. I am too greedy for that. I want to be everything, and I want to look like everything, and I want to change my personality every single day."
As the actress prepares for a busy film season over the coming months—she stars in both Dune: Part Two and Christopher Nolan's upcoming Oppenheimer—she's keeping her evolving fashion tastes and her relationship with Piccioli at the forefront. "Now we send each other pictures of each other on Instagram a lot," she told the Times. "He's become best friends with my dad. We're completely in each other's lives."

Culture Writer
Lauren Puckett-Pope is a staff culture writer at ELLE, where she primarily covers film, television and books. She was previously an associate editor at ELLE.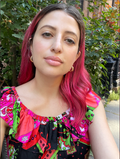 Beauty Editor
As ELLE's beauty editor, Margaux wants to try it all and do it all…and she does. She's not afraid to chop, slather, dye, swipe, inject, and more—and if it's worth your time and money, she'll rave about it here.