Compared to many countries, U.S. wireless subscribers are paying through the nose
U.S. mobile phone users paid an average of $5.62 for each GB of data last year which was among the highest rates charged among 20 countries listed by
Cable.co.uk
(via
FairBetting Sites
). Only Canada ($5.94 average rate per GB) and Qatar ($6.87 average rate per GB) were pricier among the countries listed. 5,000 data plans were included in the study which covered 233 countries. All prices in this article are based on U.S. Dollars.
On a year-over-year basis, the average price per GB in the U.S. rose 68.7% from the average price of $3.33 per GB in 2021, the second largest jump after Qatar's 114.3% increase. The biggest price decline in 2022 took place in Italy where the cost of 1GB of data declined by 54.8%. Israel, with an average price of just 4 cents per GB, has the lowest price structure for wireless among the countries listed. In Israel, 75% of the population owns a smartphone which is a slightly higher penetration rate than in the U.S.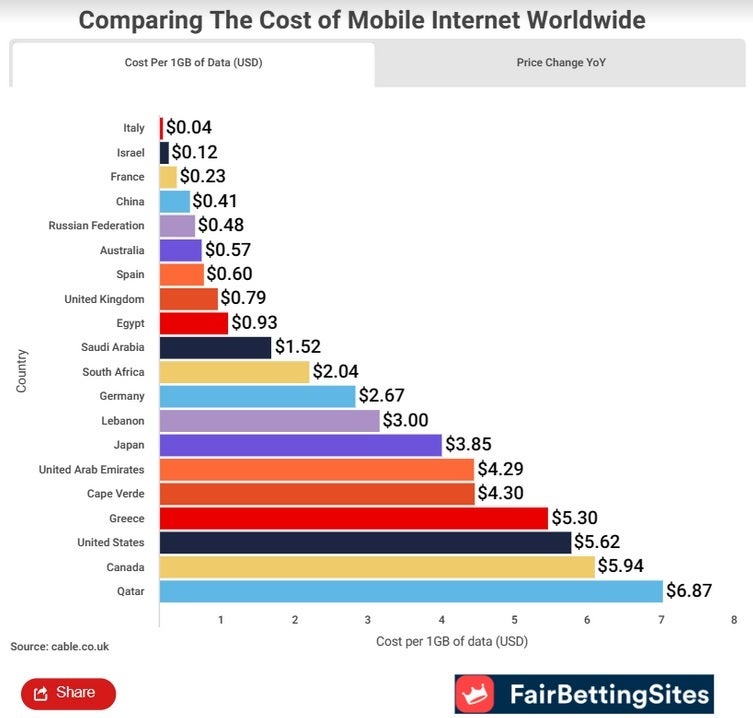 Average price for 1GB of data in 20 countries. Note, Israel and Italy are incorrectly labeled
The study notes that some of the countries with a low average rate per GB of data have high smartphone penetration rates, or suffer from a weak economy forcing prices to be lower. The report says that some countries with cheaper wireless rates have an excellent wireless infrastructure. It cites Italy as an example. The latter had an average rate of only 12 cents per GB last year, second lowest behind Israel, and 95% of the Italian population has access to 5G signals.
Besides the 20 countries listed in the survey, the report says that the highest price for mobile data was found in Saint Helena. An island located in the South Atlantic Ocean, wireless data was available for an average price of $41.06 per GB last year. The Falkland Islands, a South Atlantic archipelago, was next with an average price of $38.45 per GB of data. It shouldn't come as a surprise that nations existing away from civilization would have the highest rates for wireless service.
U.S. wireless subscribers might not be too thrilled to find out that in 2022 they paid, on average, seven times the price per GB for data than wireless customers in the U.K. The U.S. average of $5.62 per GB last year compared with just 79 cents in the U.K. You might be surprised to find out that consumers living in the country that tech giants like
Samsung
and LG call home, South Korea, paid an average rate of $12.55 per GB for wireless data last year.