Carrier Global: Sustainability As A Growth Driver (NYSE:CARR)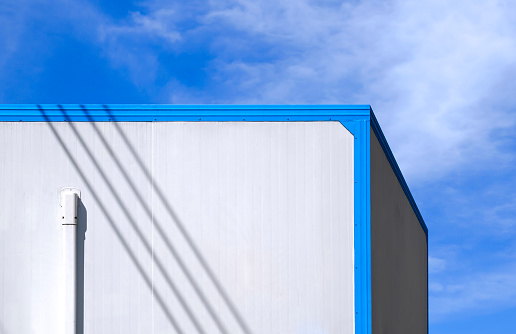 Investment Thesis
Carrier Global (NYSE:CARR) is making moves lately, as it acquired Viessmann's climate solutions and planned to divest two of its current divisions. I believe this strengthens the company's prospects as they are now a lot more focused on HVAC and sustainability, which preset huge growth opportunities. As demonstrated in the latest earnings, HVAC continues to show outstanding growth, with revenue up double digits. I really the direction the company is taking, and I believe these changes should improve its long-term growth.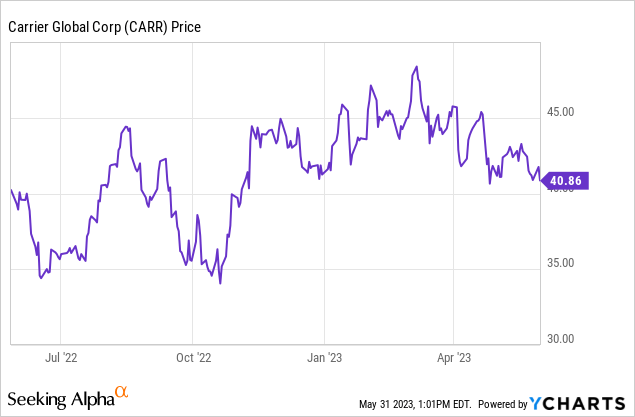 Growth Drivers
Carrier Global is a global leader in HVAC (heating, ventilation, and air conditioning), Refrigeration, and Fire & Security products. The company operates in over 160 countries, with blue-chip commercial customers such as Pfizer (PFE) and BP (BP). HVAC currently accounts for 68% of total sales, and the segment should continue to be the company's major growth driver.
Sustainability is a major tailwind for the HVAC market, as countries continue to emphasize the importance of energy-efficient products. According to the company, its TAM (total addressable market) for sustainability is estimated to be $225 billion. For instance, the government established a new standard last year that raised the minimum required efficiency for HVAC products, which should accelerate the replacement of older products. They are also considering offering incentives for more energy-efficient products, which should also further the volume of the company's newer products.
Aftermarket is also an important part of the company's growth. As the company's installed base continues to grow, the need for upgrades, repairs, and modifications also increases. It is also introducing more value-added services such as digital solutions, which should further drive growth. The company expects aftermarket sales to reach over $7 billion in 2026.
Doubling Down On Sustainability
Carrier Global has also doubled down on sustainability through the recent $13.2 billion acquisition of Viessmann's climate solutions and the planned divestment of its commercial refrigeration and fire & security unit. Viessmann's portfolio mainly consists of premier heat pumps, digitally enabled services, solar photovoltaic, and battery offerings. The acquisition is quite pricey at 13x FY23 adjusted EBITDA, but I believe it should be accretive in the long run.
Unlike Carrier which is estimated to grow revenue at a CAGR (compounded annual growth rate) of 6% to 8%, Viessmann's climate solution segment is forecasted to post a double-digit CAGR through 2030, which should lift the company's overall growth. While the company needs to issue €7 billion in additional debt, its post-transaction net debt to EBITDA ratio of 3.5x is still very reasonable (management expects the ratio to decline to 2x by 2025).
After the acquisition, the company will have a much more expanded climate and energy portfolio with a much stronger presence in Europe, especially in Germany and Italy. The ongoing energy transition in Europe should present significant growth opportunities for Carrier.
Due to the rising emphasis on energy efficiencies, the company expects the installed base for air-to-water heat pumps to grow from 8.5 million in 2022 to 40 million in 2030, representing a strong CAGR of 25%. According to the management team, its expansion into the residential battery and solar PV market also further increase its TAM by $35 billion. The acquisition is a bold move, but I believe it should yield great returns moving forward.
David Gitlin, CEO, on solar PV and home battery
Carrier does not offer solar PV and home battery solutions today. So Viessmann Climate Solutions' offering provides Carrier the perfect opportunity to pursue an incremental fast-growing annual TAM of $35 billion.
Valuation
Carrier Global is currently trading at a fwd EV/EBITDA ratio of 11.3x, which is quite compelling in my opinion (I am using the EV/EBITDA ratio as it takes the debt load into account). Over the past year, the company's valuation has diverted with other HVAC companies such as Trane Technologies (TT) and Watsco (WSO), as shown in the first chart below. They are currently trading at a fwd EV/EBITDA ratio of 14x and 15.3x, which represent a meaningful premium of 23.9% and 35.4% respectively.
The valuation gap seems exaggerated considering the company's solid performance. As shown in the second chart below, the company's revenue growth of 13.3% is actually higher than both peers'. The recent acquisition may be weighing on the valuation, as the market is often skeptical about large-sized deals. As mentioned above, I remain optimistic about the company and its valuation should revert higher as the market continue to digest the deal.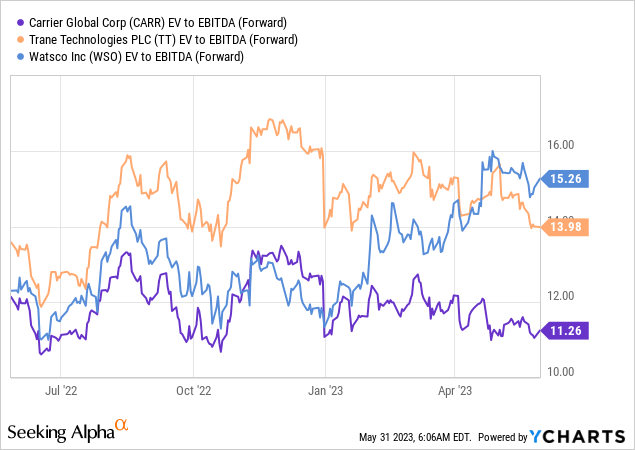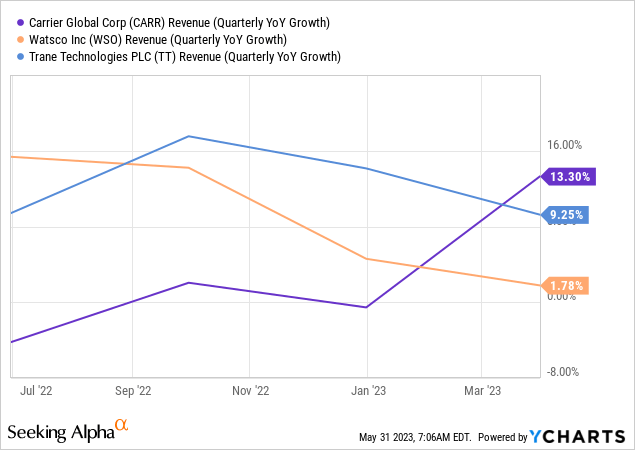 Investors Takeaway
The recent changes substantially sharpen Carrier Global's focus on HVAC and sustainability. I believe this is the right move as HVAC continues to show outstanding momentum, with revenue up 22% in the latest quarter. It also gets rid of the underperforming fire & security and refrigeration segments, which grew 6% and declined 8% respectively.
The acquisition should be beneficial for long-term growth as sustainability has been an emerging trend that is driving the demand for more efficient HVAC systems, heat pumps, etc. The acquisition also significantly diversifies the company's geographical presence. The debt they took on should be manageable considering their stable revenue and strong profitability. While fundamentals improved, the company's valuation has remained compressed, with multiples meaningfully below peers. I believe its solid growth prospects and the discounted valuation presents a compelling investing opportunity, therefore I rate the company as a buy.