Apple creates a system that would protect a foldable iPhone/iPad display from drops
One of the fears of those with a foldable phone is that when open, a large area of glass is exposed, and should a butterfingers moment take place, the entire internal display could be damaged along with the external display.
Apple
has worked for years on ways to minimize damage from a falling iPhone. For example, in 2014 it received a patent for a system that would use an internal vibration motor to
turn an iPhone in mid-air so that it would land on its back
instead of on the screen.
Apple
recently filed a patent application
(via
AppleInsider
) with the U.S. Patent and Trademark Office (USPTO) titled "Self-Retracting Display Device And Techniques For Protecting Screen Using Drop Detection." Apple envisions using sensors inside a device with a foldable or rollable display that would detect what it calls "vertical acceleration with respect to the ground" to determine if this device is falling. If so, the device could close or partially retract to protect "the fragile display from striking the ground."
The patent application adds that even having the display fold to an angle of less than 180 degrees could be useful because the edges of the device would hit the ground instead of the screen. A rollable screen could retract the display automatically if the device is falling at a speed that exceeds certain predetermined limits.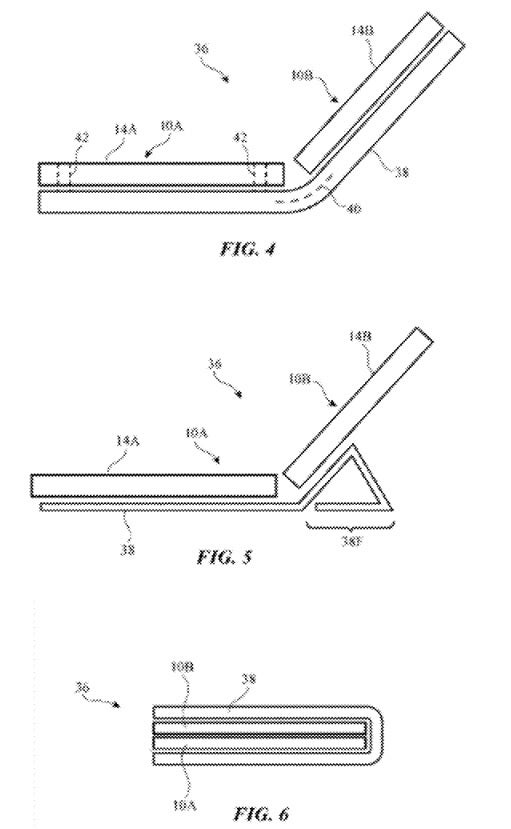 Illustration from Apple's patent application
The latest rumor from Kuo adds that a foldable iPad could feature a kickstand made from carbon fiber. This could allow a user to prop up the device at an angle more conducive for comfortable hands-off viewing of content on the screen.