Amgen: Appeal Becomes Visible Despite Uncertainty On The "Horizon" (NASDAQ:AMGN)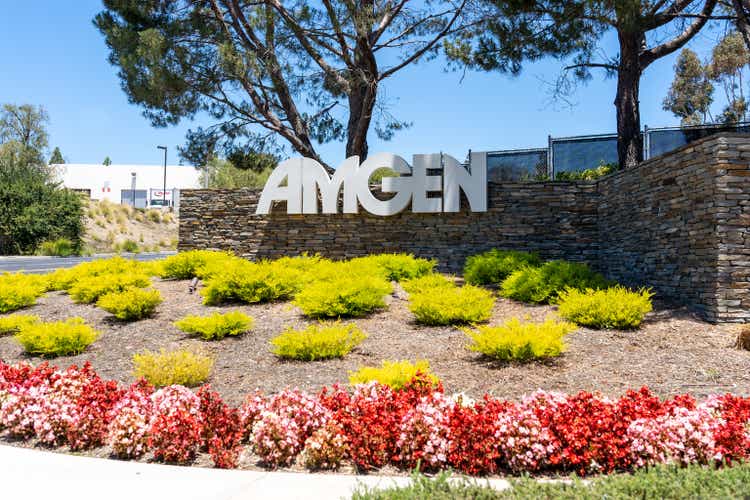 In February, I concluded that the re-rating of Amgen (NASDAQ:AMGN) looked fair, after shares fell 15% since the announcement of the acquisition of Horizon Therapeutics (HZNP). This looked fair amidst a strong share price performance beforehand, high leverage position following the deal, and an underwhelming 2023 guidance.
A Recap
In December, Amgen was the "winner" in the bidding race for Horizon Therapeutics, as Amgen paid a more than full price in order to add to the pipeline in a quest to deliver on synergies. With a full price paid, I wondered if Amgen really was the winner, after many more big biopharma names were going after Horizon.
Amgen itself has long been regarded as a growth darling, as the company has grown sales from $15 billion in 2010 to $25 billion in 2020, as the business posted fat margins of 40% in the meantime. While this growth does not necessarily look hugely impressive, growth on a per-share basis has been very impressive after the company retired about four out of every ten shares outstanding over the same time window.
Revenues surpassed $25 billion in 2020 as more growth was driven by the acquisition of Otezla from Bristol Myers (BMY). The company furthermore announced a $1.9 billion deal for Five Prime, a near billion acquisition of Teneobio, as earnings improved to $17 per share, but net debt jumped to $25 billion as well by 2021.
Through 2022 (pro forma) net debt kept rising following buybacks, a $3.7 billion deal for ChemoCentryx last summer as the IRS came up with a $7 billion claims as well, related to low tax rates paid in the past. With shares trading at $250 last summer, shares traded at 20 times GAAP earnings, 14 times adjusted earnings, as (pro forma) net debt jumped to $30 billion.
Shares peaked around $275 last September, granting the business a $178 billion enterprise valuation (based on $27 billion in net debt), when Amgen announced a $27.8 billion deal for Horizon. This deal would double pro forma net debt to around $55 billion, with the company adding $3.2 billion in sales from Horizon's Tepezza, Krystexxa and Uplizna products, while adding more to the pipeline as well.
The deal was equal to about 15% of the enterprise valuation at the time, pushing up leverage to around 4 times EBITDA, making me question if Amgen really was the winner in this deal.
Coming Down
Between December and February, shares have fallen from $275 to $240, as the company lost about $19 billion in value on the back of the move lower in its share price.
In January the company posted GAAP earnings just over $12 per share with adjusted earnings reported at $17.69 per share, as net debt was reported at $29.6 billion.
The company guided for adjusted earnings at a midpoint of $18 per share in 2023, which feels a bit underwhelming, but is based on the operational performance ahead of the latest two deals closing. The core operations are set to generate $26.6 billion in sales, largely in line with the $26.3 billion revenue number reported in 2022.
With shares down to $240, multiples fell from 15 times earnings to 13 times earnings based on adjusted earnings, as the 2023 outlook felt a bit soft, while leverage came in higher than I expected. Lack of real growth, high leverage, and the IRS issues, are reason why one should not be carried away by the low earnings multiple applied to the business.
That said, a successful Horizon deal and re-rating (post successful execution) might reveal upside as well, but given my aversion of too much debt, I concluded to wait for an entry point near the $200 mark.
Falling A Bit Further
Since February, shares of Amgen have gradually come down further, having shed another 10% as shares have slid lower from $240 per share to $216 per share.
In March, the company announced a $2.13 per share quarterly dividend, trending at a rate of $8.52 per share, a number which makes up a big portion of (adjusted) earnings power here. In April, Amgen counted a small victory as the US Courts of Appeal ruled that expiring of Otezla will not happen before 2028.
Late in April, Amgen reported relatively soft first quarter results with sales down 2% to $6.1 billion, although that product sales rose to 2% to $5.8 billion with reported sales declines due to lower other sales. Adjusted earnings fell from $4.25 per share to $3.98 per share on the back of lack of sales growth and higher interest expenses incurred.
Net debt was reported at $30 billion, as gross debt rose to more than $61 billion as the company already raised funds in anticipation of the Horizon deal closing. The company indicated that it still expects closing of the Horizon deal in the first half of 2023. The company upped the midpoint of the sales guidance slightly to $26.7 billion with adjusted earnings now seen at $18.15 per share (at the midpoint of the range) which is a bit higher than previously expected as well.
Over time, the deal with Horizon received some regulatory scrutiny as well, with the FTC seeking to block the deal. Amgen cites that it does not believe that the deal will lead to competitive concerns, given that both firms have largely different disease and patient populations. This seems very fair, as Amgen has relatively little concentration risks in its portfolio (unlike many peers).
Moreover, much of the argument by the FTC is based on the practice of pricing power through bundling of medications, something which is a novelty in the regulatory approval area. This makes that the deal will not likely close in the first half of the year, which creates more uncertainty and Amgen is paying additional interest expenses ahead of the deal, likely the reason for pressure on the shares as well, as I believe that a delay is the most likely outcome in this process.
What Now?
The reality is that the 2023 guidance has more or likely been confirmed for the year, yet leverage is still a bit high pre closing of the Horizon deal as well. With shares now down to $216, the adjusted earnings multiple has fallen further to 12 times earnings.
While the Horizon deal uncertainty will likely prevail in the near term, I am working under the assumption that the deal will likely close without too large concessions. Even if the deal is off the table at some point in time, the overall appeal of Amgen (without Horizon) should be compelling enough to ignite a long term re-rating over time.
After all, if shares fall to the $200 mark, they are down to levels already seen in 2018, while the company has seen modest growth, and better growth on a per-share basis ever since.